What, you thought you could get rid of me?

After another six month-long kick in the nuts from Ol' Man Winter, it's time to shake the dust off this blog and rev up for the 9th Annual Iowahawk Earth Week Cruise-In, the yearly online pageant where I and my readers celebrate the climate-correcting miracle of internal combustion, and honor Mother Earth - the Ultimate MILF®!  Have a hot rod, custom, donk, murdersickle, autogyro or private tycoon oceanliner you want to enter? Smack that email link on the left and send 'er in. But be forwarned -  the carbon competition is fierce! Rules:
Submit a photo or video of your ride (preferably as a link), along with a pithy description, to the email link on the left using the subject line "Cruise In". 

Eligibility is open to fossil fuel-powered human conveyances (cars, motorcycles, boats, aircraft, spacecraft, etc.) and other devices at my discretion. E.g., an electric blender is not interesting; a blown Hemi-powered blender is.

Please submit only those vehicles you personally own, or have stolen. I know many of you have pics of other people's cars, but this exhibition is about taking personal responsibility for the environment.

If your vehicle was featured in last year's Cruise-In, please wait 'til next year to re-enter. Let's keep it fresh, people!

Submission deadline Sunday, April 27.
I'll post daily updates starting Monday, and at the conclusion will select the worthiest as Grand Champion Carbonator. Now let's see those rides!
MONDAY APRIL 28
BZZZZZZZT! That buzzer means, sadly, that entries for the 2014 Iowahawk Earth Week Cruise-In are now officially closed. Many thanks to all who participated and in their own small way contributed to climate change activism. Let's start off the last batch of entries with another swanky Big Bird from Tracee:
Submitted for your consideration, this two-ton-plus land cruiser. Just the perfect way to say you care about your Mother and the ample petroleum supplies She provides. At 300+ horsepower, and with a 390 C/I V8, its just the thing to get you to your Earth Day celebration in style, much to the admiration of the celebrants. Eco- friendly? Of course!!! It'll carpool five of your friends in style, with enough trunk space for your Geo.
Having grown up on an Interational Harvester-loyal farm family, you know I dug this Farmall A submitted by Wright Shumate:
Yeah it has been a good tractor. I did break the crankshaft once dragging trees through the woods, but I use it to disc, bush-hog and grade my rock driveway. Oh, the manifold has a quarter size hole in it, but it adds to the exhaust noise.
Linda & Rob Schoffel's ginchy vintage F-1 has spent a life in service to tree murdering:
Here's our 1950 Ford F1 carbonator, which was recently liberated from years of agricultural servitude on a carbon-guzzling Christmas tree farm. Our street-legal pickup still produces tons of tree-friendly carbon from its original 226 cubic inch cast iron flat head six. Now living in comfortable retirement at our remote Finger Lakes compound, this postwar classic still does its part to keep Mother Earth green by replacing the carbon deficit caused by an influx of Priuses to our formerly redneck environs.
Sticking with the theme of sinister black pickups, here's one from real-life Nebraska cornhusker Troy Uden:
Thankfully I have one truck that can break 20 mpg when I drive it kindly. This year I'll submit my 2009 Dodge with the mighty v-6 gas burning engine. Lacking current ownership of a cool street rod, this beast is just nice enough that I can buy my way into large car shows and obtain a mighty sweet parking spot. Gimps can be very resourceful!
How do we honor America's Greatest Generation? By carrying on their beloved Cadillacs. Greg Jackson explains:
Here is my 73 Cadillac sedan DeVille. 80k Documented miles, original paint, never touched. A real survivor. I purchased it from the estate of the original owner 3 years ago. He was. WWII vet who was on the beach at Normandy, came home and became a lawyer. It loves the highway and I become one with the road and the car between 60 and 80 mph. We have a good day when we get double digit fuel mileage.
M.P. Tolacka is rightly proud of his Trumpet, especially the custom handlebars:
2008 Triumph T-100 Bonneville. Hyde bars, Hyde pipes, and the carbs were rejetted. I didn't uninstall the air exhaust valve and it pops like mad on decel. It's also got SS brake lines, new progressive fork springs, and shocks.
The best part? My then 9 year old son measured the handlebars with his Dad's calipers, designed bar ends, CAD'ed them up, and machined them out of aluminum.
Gary Altman shows the right way to improve an emissions-choked 70s Chevy Box:
My 1978 Chevy Caprice Classic. Built L-82 small block (Heads, cam, headers, Holly double pumper, Nitrous, etc). 3:73 posi rear. Was a sleeper...now a classic. Not the fastest by modern standards...but still makes all the right noises.
Virginian Jacob Drumheller enjoys soaking up nature's free vitamin D in his classic Beemer ragtop:
Just put some new shoes on her this weekend. Still burns gas like it cost when this BMW 325i (e30) rolled off the line 1991. And really the convertible is the only acceptable form of a tanning booth. A magnificent shade of blue, much like the icebergs it is helping to melt or refreeze. Depending on the study you read, of course.
Safety devices? Gary Dannunzio don' need no steenking safety devices:
I submit this 1990 Craftsman 10HP 5 speed "Frankenmower" that has been keeping Mother Earth trimmed and lubed for decades. All factory safety devices have been removed or bypassed leaving one sweet unregulated ride. After mowing with this vintage machine the 30W motor oil that hasn't been blown out the exhaust leaves a fine protective coating on the grass, eliminating the need for expensive weed killers. Hey John Deere, who's your daddy!
Mississippi road king William O'Reilly promotes peace with his fleet:
I hope that this entry isn't too late. I submit my wife's 2013 Nissan Armada ( avg. of 12.5 mpg) and my 2007 Nissan Frontier ( 15 mpg avg.) I know that these aren't the best numbers for giving it to Gaia but it the best we can do. I'm hoping for extra credit from the "Firearms Coexist" sticker on my back window and the fact that as an engineer for the state DOT we use a lot of asphalt to pave our roads in Mississippi ( a large petrocarbon usage) and our traffic signals aren't timed to the optimum which also adds to the generation of exhaust!
Fuel conservation expert "Sentinelist" explains how his fleet totals almost 30 mpg:
I only thought it would be fitting to submit my entire fleet for your and your viewer's consideration. The smallest engine I own is the 4.0L supercharged V8 in my Jag. But the top drops on it, so it's plenty 'Earth friendly'. Its stablemate is a rare 2002 Audi S8 with a 4.2L V8 like from the De Niro flick, 'Ronin'. Outside, I'm afraid things turn a bit more dire. The 2005 Escalade ESV with a 6.0L V8 bullies the town Priuses daily by my wife. And on occasional weekends (or whenever the hell I feel like it, like to go get the mail), I can dispatch our zombie apocalypse rig- a mechanically-injected 1-ton 1993 Chevy K3500 with the HMMWV-spec 6.5L turbo diesel 4x4, loaded with a fully self-contained Lance 815 camper, and other um, countermeasures. I believe that's a total of 20.7L and 1270hp of Earth-loving power to 'get out there' and see the world. Amirite?
Bob Janke shares this glamour shot of his Chevy:
Here's my sexy '72 C10. It's true mileage is unknown because who cares. It may not be fancy, or pretty, but it's my daily driver. It's small block leaks as much oil as a teenagers face, and it wastes as much gas as any fancy Ferrari especially when I toss a Prius in the back and do burn outs in the K Mart parking lot.
What better way to celebrate Earth Week with an earth mover? "The World is Not Enough" shows dirt who's the boss:
My stang has the same ol' engine but my coworker is a one man gang when it comes to nourishing Mother Earth with CO2.
The last entry in this year's cruise is reserved for Yours Truly and my 1929 Ford - a/k/a the Roadster of Love. By far the most Gaia-friendly vehicle I own. Other than '39 Ford steel wheels, Stromberg 97 and vintage accessory turn signal, it's all original and unrestored down to the original wood floorboards and canvas top. Reuse? 85 years worth. Flex fuel? At 6.5:1 compression it'll burn anything that burnable. Wimpy engine with high mileage? With a 40 hp four banger that gets 30 mpg, it's an EPA regulator's dream.
Future plans include a juice brake conversion, T-5 transmission and vintage Winfield high compression head. Otherwise it'll stay the same as God and Henry Ford intended.
FRIDAY APRIL 25
Apologies for skipping a day! I will atone by 40 self-inflicted lashes of a wet noodle, and by posting a double dose of carbon action - starting with some Poncho-powered gasser madness from Dale Van Zant:
I submit for your approval my 462 Pontiac dual-4bbl carbureted 1940 Chevrolet Gasser Coupe, "The Devils' Grocery Getter". With an estimated mileage of 1/4 mile to the gallon, trips to the grocery store are few and far-between, but I'm still keeping my thumb in the depleted-ozone pie with huge, smokey burnout and frequent 125mph jaunts down the drag strip as well as the occasional blast to the corner liquor store to give my good buddy Sailor Jerry a ride back to my compound. I'll be suckling at Mother Earth's fossil fuel teat till the day I die.
Speaking of Pontiacs, my old pal "Pontiac Ed" Raden is mighty proud of his teenage son Kyle and his kickass Z28. As The Who sang, the Kids are All Right:
I offer you the future of the Carbonator challenge, a second generation Iowahawk carbonator entry, my son's '95 Z28. After mortally wounding his engine in the 2013 Father's Day Father/Son Camaro Challenge drag race, we set about rebuilding the LT1 350 V8 with the intent of giving Al Gore cold sweats at the sound of its throaty rumble. The refresh included a large roller cam, ported heads, roller rockers, bigger injectors, a bigger throttle body, headers and a computer retune. It now requires a bit more Hi-Test to support the new substantially higher power level.
18-year old Kyle is far from the youngest contestant in this year's Earth Cruise - that honor (so far) goes to 4-year old gearjammer Ava Badgett, whose drag racing family has made several appearances here before. Proud grandpa Freddy Badgett writes:
Four and a half year old Ava is a second generation participant. Her dad was featured with his 500 HP 100 Cu. Inch VW drag Bug during the first Iowahawk salute to hydrocarbons. She does her part.
Rick Shick offers up a trio of hoopties to cover a variety of automotive tastes:
Any one of these is buckets of fun. I'm ready to roll on Mother Earth in any weather on any terrain. Got the Z3 new in '97. From doing donuts in Sequoia National Park to cruising Myrtle Beach, I have driven it from sea to shining sea more than a few times. Why, I 'member when Montana's speed limit was "Reasonable and Prudent." 129 mph was the most reasonable I ever got.
Bought the '55 Oldsmobile Super 88 Rocket in 1988 (co-owner with my Dad, so it counts!). It coughs, wheezes and drools everywhere it goes bringing smiles to all. I've even driven it in parades. Parades are always a good excuse for throwing candy at kids.
Then there's the good 'ole Dirt Bus, a 2008 4 Door Wrangler. Nothing beats the fun of driving offroad covered in a layer of sweet Mother Earth her-own-self. I like to wave at the motocross guys all gussied up in their hot sweaty gear as I trundle by in my A/C cooled outdoor living room on wheels with kids in the back giggling and sipping juice boxes. Everybody wins!
For Scott Miller, every day on his Gold Wing is Christmas:
Who knew Santa rode a Honda? It's a 1982 GoldWing, and in near-daily use from about April to early October here in the Rockies. Sure, it may seem efficient, but with a heavy throttle hand on 1,100 cc's with four carburetors and no emission controls, it's nearly as good as a Trabant at putting a pillow over Gaia's peacefully sleeping face.
Jeremy Jordan is doing his part to keep Des Moines warm with his classic Screaming Thunder Chicken:
My 1979 Pontiac Trans Am. For disclosure, she does not have A/C so you can not have the A/C running with the T-Tops out for maximum Earth destroying fun. However as we just saved the car last year, we haven't yet started a full engine rebuild yet so the CO2 output is chokingly healthy. The Olds 403 screams 'dump gasoline in me so I can spew my exhaust into the atmosphere every time you decide to do a burn out.' Which is often. Like every time it's driven type of often.
Warming the Earth while trying to cooling down with the t-tops out.
Dave R. gives a Jack Webb just-the-facts-ma'am overview of his F series:
For submission. My 1996 Ford F250. 7.5L, 460 cubic inches of gas guzzlin fun. Gets about 8-10 smiles per gallon. Two 18 gallon fuel tanks.
Steve Miller shares his tasty Swedish meatball, along with a reminder 'tis better to reuse than recycle:
Our 1971 Volvo 1800, 90% restored and driven often (sans bumpers and side-markers because it looks better), with it's original bulletproof B20 engine.
In honor of Earth Day, I submit, using current "green" standards, that driving an old car such as this is far more environmentally responsible than using child labor in China to mine rare earth materials to produce a new battery (read: coal)- powered car forged with countless kWh's for metal fabrication and thousands of plastic bits and shipped half-way around the world, consequently so that a well-meaning westerner can feel superior driving it to the local farmer's market. As such, we submit, "reusing is the ultimate recycling."
What could be greener that Floridian Mike Meridith's hybrid flex-fuel pickup?
Here is my "green" fossil fuel monster. 100% recycled from Uncle Sam, she is a modified 1969 M35A2 (Deuce & 1/2). It has a Man Hypercycle diesel engine that will burn ANYTHING with a flash point.
Rodney Hathorne's offers up a real MF (Massey-Ferguson), along with a invitation to test his home made corn-based biofuel:
Please consider my humble tractor. It's an honest hunk of steel from Detroit that has been rebuilt well. We raise turkeys here in West by God Virginia, and the gas we burn makes plenty of feed for Thanksgiving dinners. What little corn or barley left over goes to personal projects, usually tested from mason jars. We feel it is self sustaining. Feel free to drop by and test our production.
Scott French is proud of his noble pre-Government Motors Silverado:
She ain't pretty or old or custom or fast or expensive. But she is MINE. And, she drinks more ethanol free fuel than I can afford! Everything I wanted-2004 Silverado/Crew Cab/6.0L/4x4! Likes: Snow, Mud, Tropical Storms & Tailgating "Smart" Cars!
Brian of Redmond, WA is back with a sweet aerial hot rod:
In addition to me 65 T-bird, may I present my homebuilt RV-4 powered by a Mazda 13 B wankel engine. Not content to merely distribute CO2 high into the atmosphere, it does so with a distinctive exhaust note.
My mysterious jet jockey pal 'Pilot X' never has to wait for his popcorn while crisscrossing America's skies - thanks to his jJET POWERED MICROWAVE:
If you can grant a little latitude for this year's submission, I'd be much obliged. I am well aware that the object pictured is not any type of conveyance, unless you're last night's leftover General Tso's chicken looking to do a few donuts while you attain proper eating temperature. Yes, it is a microwave, but it's not just *any* microwave. This is a Wavejet, produced by the TIA division of Monogram Systems of Sterling IL. As an implement of the culinary arts, this microwave is horrible. It requires at least three minutes to heat any food item to anything close to proper eating temperatures. The only cool thing about it is the fact that it has a pressure switch that shuts it off if the ambient pressure decreases below about 697 millibars - ambient pressure at about 10,000 above sea level. Why would it need such a switch?
This radar range is surrounded by a 19 ton, stratosphere-shredding, dino juice-guzzling rocket sled used to shuttle our favorite plutocrats and oligarchs between secret illuminati bashes.. And when it's not hurtling through the air, 9 miles up at 500 knots, it's warming up my lunch on the ramp in Palm Beach or Aspen or Nice.
Whaddya suppose is powering this sucker when it's on the ground? We don't plug into the grid! Heck no, we have to be self sufficient. We have our own generator, a Honeywell 36-150BD gas turbine auxiliary power unit (APU) that we keep stashed in the tail.
So, dear sir, I present to you... the jet-powered microwave:
This heart-rending tribute from Michigan's Eric Havenhill left me blubbering like the last scene in Ol' Yeller:
I was lamenting a lack of a worthy fossil fuel burning device to contribute to this year's Iowa Hawk Earth Week Cruise-in when I remembered the family's (except for my wife) sad loss of a loved one this past year. Behold "Turbo Van". The rotted out, pollution spewing, fossil fuel disposal device that served as my eldest son's butt hauler for the past 8 years. Bequeathed to him by his grandfather the day he got his driver's license, and despite its being equipped with a V6, my son lovingly bestowed the title of "Turbo Van" to this '93 Plymouth Voyager when he learned that mother Mopar actually made turbocharged versions of these crap boxes.
I personally spent much quality time with Turbo Van fixing what ever happened to go wrong with it in any particular week, so my son would have wheels. I don't know how many times I'd exclaim, "It shouldn't need any more attention for a while now", only to find out that "a while" meant just a couple of days. Cash for Clunkers was a boon to the lifespan of Turbo Van. I made my near weekly excursion to the auto salvage yard pulling parts from other mini-vans that were in much better shape so that Turbo Van could live on to survive 200K+ miles. Clever placement of black electrical tape assured that the nagging distraction of malfunctioning emissions control devices as indicated by the "Check Engine Light" would be non-issue while driving.
When my son left for some Hoya toity grad school in Washington DC, he decided that he would no longer need the conveyance services of Turbo Van, to ride of all things, the bus! While nearly any mechanical malady can be overcome with proper tools and some hillbilly craftsmanship, nothing could prove a match for an unappreciative wife, who nearly a day after my son left home proclaimed, "Get that rusty, oil leaking, piece of sh#t out of the driveway or the neighbors will hate us." So what else is new? So here's my last photo of Turbo Van (sniff! sniff! sob! sob!) sitting on the scrapyard's scale to assign a value of 10¢ a pound to a priceless, loyal family member. The irony of Turbo Van returning back to the very place from whence all his parts came, will never be lost on me.
Clevelander Dave Van Horn owes his career to a stretch Caddy:
Linked for your consideration is Big Blue.... an Authentic 1984 Cadillac Limousine.... a Dino Gobbling 4100 Caddie motor that was originally purchased in FORD condition (Found on Road Dead) for mere pennies and transformed into the best Baseball Team hauling automobile beer money could buy. You can almost hear John Denver do a redo on Grandma's Feather Bed.... Well it'll hold 9 kids, 12 bags of gear, and a puppy we found by the shed.... Now Big Blue transports the family mutts to area parks....
The best part of Big Blue is the fact she produces spontaneous smiles and waves from children and passersby on nearly every outing.... maybe its that powder blue, or the Velour interior that would make an Elvis Rug vendor green with envy....
Jason Foglia laughs at your car's puny trunk. Behold his scrumptious family heirloom Deuce-and-a-Quarter:
This is our recently inherited 1968 Buick Electra 225 Limited. My wife's grandfather's ride from St. Petersburg, Florida with 62K original miles. 7.0L 430-4 360HP motor, 19 feet long, around 4300 pounds of love. Power windows, A/C, cruise, power antenna (yes, only the windows work).
Trunk capacity estimated at 8 bodies.
WEDNESDAY APRIL 23
Now THAT'S what I'm talking about. 2012 Iowahawk Earth Week Cruise In Spirit Award winner Ed Roe of San Diego is back - with a vengeance:
Here's my 1950 Chevy Sedan Delivery, bought stock and owned for 25 years. Delivering nothing to nowhere with minimal efficiency. Chopped and bagged with 454 cubic inches .30 over with a cam, aluminum heads and 10.5/1 compression delivers plenty of the chemical compound CO2 that built this here planet (and that plants just crave!)
End-times zombie infestation? Minnesota's Carleton Fish says Bring It On:
My 2004 Jeep Wrangler Unlimited is fully equipped for Anthropogenic Climate Change (ACC)/Global Warming/Global Cooling/Climate Change/Climate Disruption, General Ecological Collapse, and The Impending Apocalypse.
Australian Jeff Hall would like to offer apologies for his Jag:
This baby did 12 mpg before the engine management upgrade. I regret it may now be more like 15. Sorry.
When Archie and Edith Bunker sing "gee our old LaSalle ran great," Jim Hughes of Connecticut knows what they mean:
My wife decided we needed something with more room than our 36 LaSalle coupe has. What do you do when your wife says she wants you to buy an old car? You buy it unless you're crazy or you want to sleep on the couch. Attached in all of it's gas guzzling glory is a picture of our latest acquisition, a 1937 LaSalle four door sedan with my friend Brian and my dog Tyler. Somewhere along the line the 322 C. I. LaSalle motor was replaced with a 1941 346 C. I. Caddy motor. For a big car it goes pretty fast and yes, the 37 LaSalle transmission does have a nice ratio and shifts smoothly. The misses isn't too fond of the WWII staff car look so it will probably end up getting painted soon. I thought it would be a hoot to paint our faces green, wear all green fatigues and go to a cruse night. Well, one of us thinks it would be a hoot anyway.
Ain't nothing in this world more handsome than a fully-patinaed beater truck, and as always the Earth Week cruise will feature a load of 'em. First up, a swanky Chevy from Sacramento's Rich Johnson:
I'd like to join in the Earth Week fun with a classic. This is a 1967 Chevy C20 Longbed Stepside pickup truck. In honor of Earth Week, this truck features:
Filth emitting 283 V8
No smog control equipment
Evil multinational corporate logo
Minimal safety equipment
And, one day, virgin old growth redwood bed just for fun.
This beauty has been staving off the next ice age for the past 47 years. Here's to another 5 decades.
Long time readers will recall our old pal& hair tonic supplier Doc Lee and his adventures in Iraq with the mighty Dumb Vee, festooned with refrigerator magnets sent by Iowahawk readers like you. Well, happy to say Doc is back home in the Ozarks where nowadays he tools around in this eye-catching Jeep:
From Siloam Springs Arkansas' leading one-eyed Chiropractor and magnet enthusiast, I humbly submit my 1978 Jeep J-10. 360 C.I. V8, factory 4 barrel, 4 speed (which I drive in granny gear, to more efficiently emit lifesaving greenhouse gases) and just for the occasion, I vented the freon from the A/C to the atmosphere to do my part in removing as much ozone as possible (known by the state of California to be a pollutant).
It's sister, a 1990 Grand Wagoneer is currently having it's freon similarly vented. No need to thank me.
P.S. I parked in that handicapped spot just because I'm an asshole.
"I'm with the band!" says Robert Carlisle's tour-tested Chevy:
This 1985 Chevy van was my band's vehicle for almost twenty years, traveling up and down the east coast from Oxford, Mississippi to Princeton, New Jersey with its stock 350 drinking the gas and spewing the carbon (as well as other illegal fumes from within the passenger compartment). The odometer turned over once and hit the 70,000 + mark when the instruments quit working but it was on the road for another 5 years before retiring on my patio as a storage shed for musical equipment and anything else that wouldn't fit in the house. Never used a drop of oil that entire time. After a few problems crept up it sat unused for ten years so I feel guilty for wasting all that time when it could have been pouring exhaust into the Charlotte sky. Hated to get rid of it last summer but the wife insisted. She and I were the only people connected to the van that never had sex in it. It smelled like a combo of frat houses, mildewed clothes and really good pot. Sold it for $350 (1$ for each C.I.). Hopefully, it has been brought back to life and continues to enhance the environment.
Minnesota Sky King Jerrod Lindquist employs his aircraft in the cause of science:
My airplane (currently mine but pic was taken when it was owned by a previous pilot) patrolling the shores, monitoring the scientifically-settled, AGW-caused rising sea levels – also ironically spewing carbon directly into the upper atmosphere and causing said rising levels. For those not in the know, "Ironically Spew" is an actual setting on airplane engines.
Schlitz may have made Milwaukee famous, but it was Harley-Davidson that made it badass - as this entry from "Unclefacts Meteor-Summoner" demonstrates:
Yeah it's orange. Problem with that?
2009 Harley Road Glide with some bits. Goes fast for a harley. 107 cubic inches, pipes and a power commander.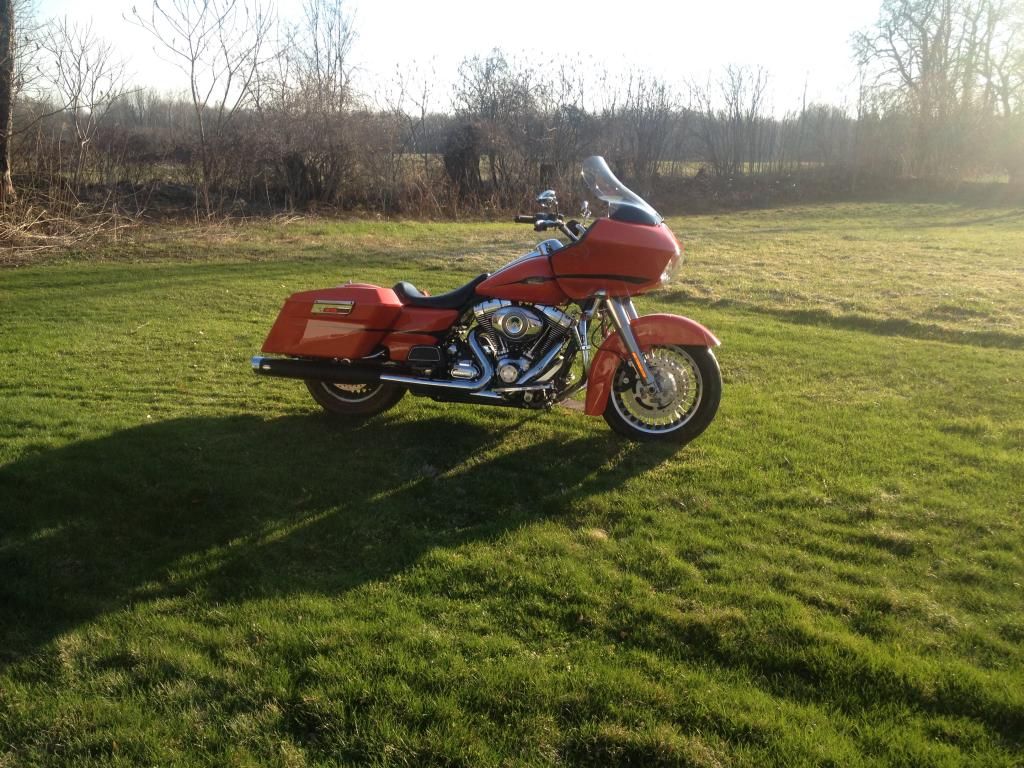 Eco-sensitive craft tofu farmer Lezlie Peabody is a wise steward of Mother Earth atop this green machine:
This is a 1970 John Deere 4020. We farm two thousand acres of soybeans and corn. We use this to run an auger that loads grain in the bins. It just sits there stationary, running, burning massive amounts of fossil fuel. I'm just doing my part to feed America!
TUESDAY APRIL 22
What better way to greet Official Earth Day Day than this? When it comes to warming the climate, Gary Donovan says MOPAR or NO CAR:
1970 Plymouth 440 GTX, owned and raced since 1988! 
Best pass of 11.2 at 124 mph, and yes I own the rest as well!
Aussie! Aussie! Aussie! Oi! Oi! Oi! The annual Earth Week Cruise always features some impressive entries from our friends Down Under, thanks to my old pal Tim Blair. Like this one from real life Road Warrior Garry Graham:
I thought it an appropriate salute during my recent 18 day, 9000km carbon-fuelled adventure around the eastern half of Australia.
Here's another Australian entry from Mick Baker, who has graphically hopped up his Holden to support the greatest green program in history- capitalism!
G'day Dave, I am a first time entrant, but long time reader and supporter of your global warming efforts. This is my ride, which I have recently branded with my business livery. It's just a Holden Commodore Acclaim 6-cylinder - nothing special about it.  The reason I am entering it in the competition is twofold: (1) Shameless self-promotion - especially of my iPhone and Android app that could save someone you love's life called iNeedHelp. (2) The simple fact that every fortnight I drive a 250km round trip twice to pick up my son for the weekend (which costs me around $50 in petrol - my ex pays the other half) when I could pay $3 and catch the train to pick him up. 
Viva capitalism! Viva spending money and petrol in the furtherance of branding!
So you think your car is green? Check out the power plant on Don Hudnall's bitchin' Trans Am:
I submit a truly green car for you annual Cruise In - my 1985 Pontiac Trans Am. It is powered by chlorophyll. Where do I sign up for my Obama green-fuel subsidy?
Joe Merlino trumpets his Trumpet:
2003 Triumph Bonneville America. 790 CCs of pure internal combustion fury.
 Richard Phillips knows the greenest car is the one you've already got:
Comrade Iowahawk: In case you decide to have an Obama-approved category, I submit for your consideration my 62-horsepower 1984 Toyota Tercel.  I bought this vehicle new, and as of today has 412,356 miles on the original engine.  Averaging 36.4 mpg over the past few years, this vehicle has survived the threats of nuclear winter and global warming without a single airbag.

Gaia-approved safety features include no air conditioning.  Yes, this is rather brutal during humid South Carolina summers, but think of all the ozone that has not been depleted during the past 31 years!  Notice also the convenient highlighting of the "55" on the speedometer.  I cannot help but rejoice at how many times this reminder has convicted me of my excessive carbon footprint!

Somewhere on planet Earth, Al Gore is pleased.  (Just don't tell him I bought my wife an SUV.)
If you can't get excited about a vast chorus of gas-powered lawn equipment singing in heavenly harmony then you are reading the wrong damn blog, bub. Zac explains:
This is my buddies' and my collection at a tractor show running at once. It sounded great and smelled even better.
Martin Price flies through the air with the greatest of ease:
Please find herein my candidate for the 9th Annual Iowahawk Earth Week Cruise-In (which could easily have been my entry for the 8th, or the 7th, if I ever actually paid attention to things like deadlines). This is our 1989 Pitts S-2B aerobatic biplane. (3 of us co-own her. Yeah, it's a "she".) The following points are noteworthy from a Cruise In point of view: 
 - She's drop-dead gorgeous.
 - Chicks dig biplanes. Fact. 
 - Good old-fashioned stone age technology everywhere you look. Metal. Wood. Fabric. The original design dates back to the '40s and, if you ignore the GPS (we do), mechanical fuel injection is about the most sophisticated feature.
 - There are also no pilot aids - fancy avionics, autopilots, or even such basics as "stability" or "forward visibility" when landing, are all noticeable by their complete absence. 
 - That's a 540 cubic inch 260hp air-cooled flat six [Lycoming AEIO-540] in an airplane that weights about 1200 pounds empty.
 - Aerobatics is, as they say, about as much fun as you can have with your clothes on.
 - In a competition or practice flight she gets through a gallon of fuel roughly every 3 minutes...
 - ...and that's 100 octane low-lead fuel.
 - Being possibly the single worst form of transportation in the world (imagine sitting in a metal trashcan while somebody pounds of the side with a baseball bat) she really serves no purpose other than converting said fuel into entropy and smiles. When actually traveling, typically to a competition, we can just about get 14mpg. On the other hand, that's cruising in a straight line at around 155mph so it's arguably pretty respectable. I hope that doesn't disqualify me.
That's all I've got. I think I'm in pretty good shape until my friends start submitting their jets. No respect for the environment, some people.
 Another fearsome entry in the lawn care division from Lezlie Peabody:
2008 Skag Wildcat.I use 5 gallons of fossil fuel every week on the property. Just doing my part.
While to the layman it may seem Corey Ford's vehicle stable already has plenty of horses, he provides a compelling technical explanation why it should have even more:
Hey, Dave, I just wanted to introduce you to my current rides: a 2013 Ford Taurus SHO AWD pumping out 365 Gaia-torturing horsepower, and a 2014 Aprilia Tuono V4R, blasting out 155 biosphere-shredding rear-wheel ponies. For those keeping score at home, that's a total of 6 wheels, ten cylinders, and 520 beautiful, polar-bear-drowning brake horsepower. As of now, both vehicles are pretty much in stock form, but I hope to soon upgrade the Aprilia with an Akrapovic exhaust that adds another 5-10 hp or so, and, for the SHO, go the whole hog: Hennessey MaxBoost 445 kit, that boosts the hp to (you guessed it), 445, a figure that should make Al Gore cry himself to sleep in his 20,000 sq ft hypocritical luxo-mansion.
Now, you might be saying, both of these vehicles are pretty much off the charts in terms of performance, so does either of them actually NEED any more horsepower? The answer, of course, is a resounding YES. Why? Because, MORE.
MONDAY APRIL 21
 Let's lead off the 2014 carbon cavalcade with these entries from Steve Thompson, who embodies the whole Earth Cruise spirit:
I love your Earth Day pics.  I have a 2001 Harley Ultra Glide named Bettie-Lou that gets good mileage but because it is what it is getting on it and riding around all over the place to waste gas is part of the allure of it. Not to mention the two fine examples of some nice eye candy too! Also, my RV with the bike trailer is no doubt the best way to travel in my book. The RV is named Maybelline and her bored and stroked 454 Chevy now has 496 C.I. and puts out about 325 HP and a whole heck of a lot of torque!
Taciturn Eric Davis prefers to let this pic of his Porsche Carerra at Lake of the Ozarks speak for itself:
Kentuckian John Collins shares his smooth-as-Bourbon Squarebird:
Our 1959 Ford Thunderbird, with a 352 ci V8. Guzzling gas at a rate of 9-10 mpg.
Rick Mance has me seeing double with his blown stroker Camaro:
1968 Camaro Convertible. Supercharged 383 Chevy Small Block. 390 ft-lbs of torque at the wheels. Muncie 4 Speed. Sweet ride. And it's for sale!
Drew Felt of St. Louis MO shows that with a little ingenuity you can coax car-like gas mileage out of a two wheeler:
Cheap thrills. Twenty-seven hundred bucks can buy a 1986 V-Max with a Stage 7 jet kit, swiss-cheese airbox, and a Kerker 4-2-1/Supertrapp exhaust. Healthy doses of throttle keep the mpgs down in the 20's.
Out in Phoenix, Michael Perkins keeps the desert air toasty with his GT 500 'Stang:
Note that I am fully capable of pulling up to the eco douche with no ac & opened windows & overcome them with exhaust… Not that I would EVER do that ;)
Delaware is the home of America's handsomest license plates, as well as Steve Kay and his Jumbo-sized Mini:
I purchased this 2012 MINI Countryman ALL4 in February. I thought the tailpipe tips were powder coated black, but it turns out that when driven in Sport Mode, it actually injects extra fuel during deceleration to cause popping, burbling and carbon sooting. The vanity tag, jiayou, is Chinese for "add petrol".
When it comes to snow removal, this entry from New York's Paul Pomona packs a 1-2 punch:
With a near record amount of Global Warming in The Hudson Valley of NY this winter, Was sure glad to have my 1971 Bolens 1254 Gas guzzling, oil burning, smoke belching tractor snowblower to keep the neighborhood driveways clear. She don't look so purty and sounds like a pile driver but still throws the snow a good 25 feet. Think it's safe now to switch out the blower for the garden tiller and then the mower deck to insure a continued carbon foot print thru spring/summer.
Typical Pacific Northwest eco-extremist Brian of Redmond, Washington likes to feed the trees with his T-bird:
Here is my freshly restored pre-catalytic converter 1965 T-Bird with the FE390 engine. Enhancements include Edelbrock Performer Cam, intake manifold, and carburator, along with Headers and oversized stainless steel exhaust, all optimized for efficient delivery of that essential life-giving CO2. This car has been serving mother Gaia for just short of a half century.