The trill of robins and the roar of 2-stroke lawn mowers herald the return of my favorite blogular tradition: yes, ladies and gentlemen, it's time for the 7th Annual Iowahawk Earth Week Cruise-In where together we celebrate Mother Earth - the Ultimate MILF®!  Over the next 7 days I will once again be highlighting my readers' impeccable taste in vehicles and insatiable thirst for fossil fuels. Over the years I have proudly raised awareness that, when it comes to providing life-sustaining carbon to our planet's trees, nobody makes Iowahawk readers ride shotgun. Just take a gander at the amazeballs entries from last year's Cruise-In!
Despite the prevailing prices for premium unleaded, nitromethane and rocket fuel, I'm anticipating another record breaking installment. Want to get in on the fun? Here are the entry rules:
1. Submit a photo or video of your hooptie (preferably as a link), along with a pithy description, to the email link on the left using the subject line "Cruise In".
2. Eligibility is open to fuel-powered human conveyances (cars, motorcycles, boats, aircraft, spacecraft, etc.) and other devices at my discretion. E.g., an electric blender is not interesting; a blown Hemi-powered blender is.
3. Please submit only those vehicles you personally own, or have stolen: I know many of you have pics of other people's cars, but this exhibition is about taking personal responsibility for the environment.
4. If your vehicle was featured in last year's Cruise-In, please wait 'til next year to re-enter. Let's keep it fresh, people!
5. Deadline for submission is Sunday, April 22.
Once the entries arrive I will post daily updates, with newest entries on top. And, when the contest concludes, I will take each into consideration before crowning the 2012 Iowahawk Earth Week Grand Champion Carbonator.
Let The Carbonating Begin!
Monday April 23
Bzzzzt! Sorry folks, that's it for this year's edition of the Earth Cruise, which, if the Mayans are wrong, will be back again next year. Humble thanks to all the participants who made this one another record breaker. And how did Yours Truly celebrate Earth Day, the most important day on the eco-calendar? With a 180 mile multicultural celebration of our beloved planet and her vehicles, natch! First a stop at the Latino Ethnic Awarness Association's first annual Custom, Hot Rod & Low Rider Show at the College of DuPage in Glen Ellyn IL, then a cruise west through the cornfields to the paint booths of Sycamore to photograph the gleaming freshly bronzed body of the Coupe of Wrath. Finally a stop at a secret storage facility to kick the tires on a Model A roadster. A visual review of the fun:
Sunday April 22
HAPPY EARTH DAY! And the Grand Finale of the 7th edition of the Cruise-In. I'll be posting updates throughout the day, squeeze between a few automotive activities. I will be accepting submissions until 6 PM central time, so if you want to see your whip featured, get moving!
This entry from Ed Roe of San Diego illustrates man's defiant one-finger triumph over nature, thus making him a shoo-in for The 2012 Iowahawk Earth Week Cruise-In Spirit Award:
"Here is my 1969 Kaiser Jeep M725 5/4 Ton Military 4x4 Ambulance. The WarWagon has a Chevy 454 and 4 speed overdrive on 39" tires to move it's 8,000 pound tare weight up the mountains and down to the desert. A custom 40 gallon tank with two 5 gallon jerries on the back doors ensure that I make it to the next $4.29 per gallon fill up."
In the Heart-Swelling Patriotic Carbon Emissions category, I would like to recognize this entry from Andre Carter:
"My job for the last 10 years, working on the F-22 Raptor. If you are in the know, take a look at the exhaust—AFTERBURNER baby!!"
Despite her unsuccessful efforts to convert a feline into a CO2-emitting beast of burden, I will allow Anisa G's entry simply for trying:
"This fine cat-powered vehicle requires no carbon emissions to operate and in fact, no energy whatsoever as cat refuses to use it. Lenin would be proud."
Cory Ford feeds the rain forests of the exotic East with CO2 from his fearsome 'Busa:
"Here's my 2008 Suzuki Hayabusa, which I enjoy cruising around northern Thailand, where the roads are awesome and there's essentially no such thing as traffic enforcement.  It has a set of custom-fitted Termignoni slip-on exhausts, which shed about 40 pounds from stock, enhance sound and performance, and (hopefully) maximize carbon output.  I haven't had it dyno-ed since installing the new exhausts, but I'm guestimating the Busa probably cranks out around 185-190 rear-wheel horsepower now.  Can spin the rear tire in third gear."
Former Iowa Bill Kniegge dishes up a tasty slice of Black Forest cake:
Here is a shot of my entry for the Cruise In… 1976 BMW R 75/6:  Old N Fast.
Lee Dise of Virginia Beach hails a cab:
A 1982 Checker Marathon.  I'm told there were only 88 Marathons made in that year, its last year of production.  I bought it in 1999, and after driving it for eleven years, I decided to give it a face lift.  I let the good folks at FantomWorks handle that part of it.  http://www.fantomworks.com  They did a fantastic job.

It's a tank.  A triple-welded frame and heavy-duty suspension make curbs quake in fear of a collision.  Designed in 1958, except for the heavy-duty aluminum bumper which replaced the original chrome bumper in the Seventies, this last of a line looks like the first one that rolled off the line.  Not a refined car by any means, but unlike most cars being made these days, it's designed to carry people.

In the face lift, I considered turning into a taxi -- either a New York yellow Checker or a Chicago green-and-tan.  It would have probably been worth more money had I done that.  But I decided the car should be true to its roots: it was never a cab, so I kept it "civilian" and made it a "beachy" car, since I live in Virginia Beach.

I never thought anyone would ever consider it a beauty.  I love it, but it surprises me when others do too.  In any event, it runs as sweet as it looks, if its looks can be called sweet.
Despite the previous owner's chutzpah, Randy Baker sprung for this unsprung Rambler:
"The 1965 AMC Rambler Classic Wagon came from the factory with either a 327ci V-8 or the much loved 232ci 6cyl.   Jeep lovers will attest to the popularity and dependability of the inline 232 that was standard in all AMC Jeeps of the 1960's and pretty much the same engine design that's in my 1998 Jeep Cherokee.   As a matter of fact, soon after I bought the Whooptie Wagon an older gent was quick to tell me what a great car and engine combo I had, and I can still hear his voice like it was a minute ago: "Yep, That car will take you to California and Back no problem".   Living on the East Coast, I'm planning to take that fellows advice and one day gas up and go, and at 18mpg fully loaded I'm already feeling a tingle in my pants.   Per the photo, I've since replaced the ball joints, and have saved the old ball joints and mounted them on an 2 foot high fluted Roman pedestal."
What evil lurks within the engine bay of this 'Stang? Bill Cismar knows:
This is my 1965 Mustang. It is running a late model 5.0 engine using the more fuel d-efficient naturally aspirated setup in order to achieve the maximum gallons per mile possible. This is transmitted via a 4 speed AOD to a 9" traction lock rear end running 4:11 gears.  In this configuration it is good for 400+ ponies at the rear wheel before I cried "Stop" to the dyno operator for fear of scattered parts @ 5000rpm. After all, it isn't as if this is built to race! No, this is built so that I can lope around town at just above idle sounding like I have 2 loose spark plug wires and spewing as much un-burnt fuel at the pedestrians around me as possible.
This vehicle has been proved perfect for living the Ace of Spades approved life style. The extendable trunk and fold down rear seats provide ample space for hauling cases of ValuRyte products and bacon. Lots of bacon.
A one-two punch to global cooling from Dan Shea:
"The '62 Buick Special convertible has the original 215 ci aluminum V8 warmed over from 190 hp to 243.  It's tricked and slicked.  The '63 Rambler "Ramad" wagon is still a work in progress.  Installing a Ford 2.3 4-banger with twon Weber down draft carbs, 5-speed tranny and Mustang II indi front suspension."
Down in Pinehurst GA, Devlin Foster has gotten 35 years of faithful, earth-defiling service from this handsome LandCruiser: 
"This is my fathers '77 Toyota Landcruiser. He has driven it all over the U.S. and taken it on countless hunting trips. It rarely found a spot it could not get out of. It is powered by a 117 horsepower 4.2 liter in line-6 cylinder. Upgrades include H.E.I. a larger radiator and all emission controls removed. With mud tires, on a good day, it will get 8 MPG. I have a feeling my dad would like to be buried in it. I will make sure that all the fluids will be topped off. That way, I can best give back to Mother Earth what we have gratefully taken from her."
I'm not a religious guy, but I may have to look into Dave Hester's church:
"Checking in again this year from Lexington, KY. This year I have submitted for your approval my cream puff 2002 Chevrolet Camaro SS in Imperial Blue Metallic. In terms of it's paint quality and general overpampering, it's pretty much the exact opposite of the turquoise-and- rust GMC I entered last year.
The photographs were taken just this afternoon at my church, which (unintentionally, I'm sure) chose to celebrate Earth Day with a car and motorcycle show. Being good Protestants, you can't really accuse us of having raped Mother Earth, although we may have messed up her lipstick a little bit and snapped one of her bra straps."
When it comes to fuel consumption my pal "Pilot X" takes a backseat to no man. Here's his daily driver. For this year's cruise he offer a unique virtual hooptie:
"This isn't a deluxe porta-potty on hydraulic stilts (although that's a fantastic idea!) . It's a pilot torture device - an industrial-strength flight simulator. The dino juice it burns is virtual, unless you count the coal-fired power plants required to fill up its wires with smoke. Divide that by how many miles it physically moves - zero - and you have a fuel efficiency that breaks calculators and threatens to collapse the entire space-time continuum. Plus, if you want to fly the real thing, this is the gateway. So in a way, this baby is an important key in keeping our winters mild and our beaches toasty."
High 'n' Mighty! "Dorian Gray" from The Blogmocracy sends in this kickass gasser-style Comet, sporting the same taillights I used on the Coupe of Justice (more pics here):
"It's a 1962 Mercury Comet frame off tube chassy dragster, owned by me, my brother and a friend."
Having grown up on an International Harvester farm (the Iowahawk logo pays homage to Farmall) lord knows I have a fascination for IH machinery, and Kevin Clark from Evergreen CO indulges it: 
"1975 International Harvester Scout II.  The stock IH 345ci V-8 has been replaced with the larger IH 392ci V-8.  She gets about 7mpg right now turning 33in GoodYear Dura-Tracs.  When coupled with the 19 gal tank you don't get real far.  Many of the aftermarket parts came from Anything Scout in Ames, Iowa."
Oh yeah. 365 reasons to dig Steve Flynn's '65 'Vette, not the least of which is the L76 mill, same as the Coupe of Wrath's:
"Here's a pic of my 1965 Corvette Sting Ray. It's the small block 327/365 hp with solid lifters, double hump heads, Holley 4-barrel and 3.70 rear-end. She's fast and she's loud with the original side-pipes! It's a matching numbers car with the only modification being the Hurst shifter package.  Due to the high compression ratio of these older cars I can't use unleaded fuel - darn it!  So when I'm not using the expensive racing fuel from a local track I add lead (from Podell's) to high-test unleaded for the same result." 
"Grease Monkey" from Ace's Moron Nation lives up to his name by offering two handsome hoopties for you approval:
"First up we have my 1986 El Camino. The mullet of cars, all business in the front, party in the back. This ElCo is my daily driver and I drive it as often as I can. I slightly modified the much hated SBC 305ci with bolt on speed parts and dual exhaust for better belching power. I probably get around 10 mpg even less with the A/C blasting."
"Next up is my 1948 Dodge D-24. Car is a work in progress but it does run and smokes a lot. Car is way too heavy for a flathead 6 motor, we will fix that when I can get more cash. Plans are to replace the 6 banger with a big blog 383 semi hemi. Good times. Let's burn some rubber and be safe out there."
Phil Lorang offers this interview with his congenial Ford:
MC: Welcome to the 7th Annual Iowahawk Earth Week Cruise In!
[APPLAUSE]
MC: I'm your host, Wink. Let's meet our first contestant.....Company Pick Up!!
[ENTHUSIASTIC APPLAUSE]
MC: originally from Salem, Oregon, lately she has been seen hovering over a grease pit in Albuquerque, New Mexico. Good evening Ms. Pick Up and welcome to the show! Tell us, what are some of your favorite hobbies?
CPU: Well Wink, I like to jump curbs and ditches, knock over fences and I'm especially fond of dinging parked cars!
[APPLAUSE]
MC: As a company pick up I'm sure you've been driven by lots of different guys, haven't you?
[WOO, WOO,..YEAH!]
CPU: Well yes I have, Wink. But a pickup can be driven lots and still keep her virtue. And this is advice all you younger company vehicles should live by: never let the needle on your temperature thingy get too close to the red area. If it never gets to the red area, no man will ever bother to try and get under your hood.
[OOOOOHH!]
MC: Now, what do you plan to do to honor Earth Day?
CPU: That's right everyone, I'm going to spread my sweet CO2 from Payson, Arizona to Washington State purt near to the Canadian border in less than 48 hours! Wink, that's over FOURTEEN HUNDRED MILES of travel in one weekend!!
[VERY ENTHUSIASTIC APPLAUSE]
CPU: And my driver is doing his part to contribute to the 'greenhouse effect' by spewing as much methane as 2 days of Taco Bell can produce.
[VERY, VERY ENTHUSIASTIC APPLAUSE]
Dave Weiman of Ursa, IL submits this interesting subcompact (though no info on its emissions):
"Model: 2008 Miniature Burro. Name: Ranger. Ranger is a little ass. His top speed is haulin' ass (see video). Ranger runs strictly on bio fuels in their rawest form. He enjoys kicking, being kissed, being hauled, and other activities that make good ass jokes. Dresses up as Rudolph the Red Nosed Reign-ass every December. Shown setting up barrels at our rodeo, we believe this is the only time as ass has been used for this purpose in the history of rodeo."
Chappaquid-tastic! Paul from Connecticut submits his handsome Olds, a reasonable facsimile of Ted Kennedy's ill-fated Delmont submarine:
"1970 Oldsmobile Delta 88. 350 Rocket V8. More power than suspension. Drives like a drunken Orca."
Like Archie and Edith Bunker, Jim Hughes of Coventry CT has an old LaSalle that runs great:
"Here for your consideration is our 1936 LaSalle. It has a straight 8 motor and sucked gas like I owned EXXON. It gets better gas mileage since I did a valve job, but on the plus side we will be driving the wheels off it this Summer so gas consumption should be up over all. Don't forget to start every internal combustion engine you own on Earth Day to thank Mama Earth for providing us with oil so that we can enjoy a life style that is the envy of the World."
Don't let the wizard hat and hippie whiskers fool you - Don Hudnall carries on in the finest tradition of Appalachian motoring, as witnessed by this tour of his personal automotive collection / museum / Pick 'N' Pull:
"Just an old 1984 Oldsmobile Cutlass Supreme Brougham (fire up the Bro-Ham, Patrick!) with the classic Buick V-6 Odd-fire (firing order 1-6-5-4-3-2). I paid $100 for it and have been driving it pretty much daily for six years come May. The dollar per ton of carbon dioxide emitted ratio is excellent. The outside is looking a bit rough but the interior is still very nice and it rides and handles great. Just the thing for zipping along curvy West Virginia mountain roads. My pickup is a 1981 Ford F-100. I'm generally a Chevy (or General Motors) man when it comes to vehicles, but I couldn't pass up the deal on this one. I bought it from the original owner. We always got along good and I remember when he bought it new just after I got out of the Army. It has a 302 V-8, and he had it completely and professionally overhauled at 100,000 miles. It now has 118,000 - just broken in. He passed away the month after I bought it. Sad, but the family knows I'm keeping his memory alive by driving it regularly. It has eight cylinders as opposed to my Cutlass, but I don't think it carbonates as efficiently as it gets better gas mileage. Still a great ride with three on the tree (just like the 1965 Ford F-150 I learned to drive in). 
I feed them both 90 octane unleaded WITHOUT ethanol - I can get that here now - and it has dramatically improved both their performance and mileage. I highly recommend it. If we can get enough folks out there with fire in their eyes and pitchforks in their hands we can get rid of this evil ethanol scourge. Gasoline for our cars and corn for our bellies!
The two Trans Ams are project cars for when I get some "disposable" income. The '89 has the optional 350 Tuned Port Fuel Injection Corvette engine, and I'm keeping an eye out for a small block V-8 for the '85. They should carbonate quite nicely as well as adding the delectable smell of burnt rubber to our atmosphere.
The troll signs were an inspiration from my last ol' lady. After I finally had to get rid of her she came back with an old Cavalier her new boyfriend gave her. (Someone gave it to him to pay on a debt.) She wanted me to work on it, and I told her I wouldn't touch it with a 10-foot pole. She gave me a funny look and said, "well, you're just...just a troll!" I took that as a compliment and ran with it. My 13 year old daughter took a photo of me this afternoon after the circus in a circus hat, so you can see that the troll epithet fits."
Saturday April 21
24 hours to go in this party, so last warning to get your entry in!
Jerry Stratton sets an all-time world land speed record, piloting his Lincoln from San Diego to Texas and back in 3 minutes:
"I hope the miles driven make up for the incredibly high mpg rating of the 2005 Lincoln Town Car, but if it doesn't, I understand. An event like this needs its standards!"
"DRI from Ace of Spades here. The pic is of my brand new 2012 Dodge Challenger RT HEMI. This car, along with my 29 year old girlfriend allow me to fully embrace my midlife crisis."
Lots of fond Mopar memories for "Taxpayer1234":
"A 1975 Chrysler Newport Custom Coupe. My dad taught me how to drive in this car.  In a cemetery, yet--hey, you couldn't kill anyone.  Perfect dad logic. He made me drive it because of its strong resemblance to a Sherman tank:  4500 pounds, 8 mpg.  V-8 360 with the carbuerator from hell; had to repair it every 6 months. I liked it because it was big enough to fit at least 8 friends, and it had an FM stereo (big deal back in 1978).  It had a super-squishy suspension--could run over a herd of leatherback sea turtles and never know it.  Nicknamed it Moon Unit."
Whoosha...Barracuda! Ann and Nancy Wilson started playing in my head when I received this submission from Kieran Mullaney:
"1968 Barracuda Convertible with a 360 C.I. V8 and an Edelbrock gasoline funnel up top.
The brakes suck so that helps keep the speed down!"
Tim Prescott doesn't fart around. After ordering his Mopar, he sent it over to have King Richard bring it up to snuff:
"I submit for your viewing pleasure my pretty much standard 2010 Dodge Challenger R/T, 5.7 Liter that gets a respectable 19 MPG thus avoiding that pesky guzzler tax that you hear the SRT8 guys crying about all the time...OOPS, forgot one small detail.  After purchase some friends of mine from Richard Petty's Garage over in Randleman, NC dropped by the house, dragged her up onto a flat bed, took her away for two weeks and pretty much had their way with her.  Went to pick her up and this is what I ended up with...a Richard Petty Signature Series, 5.7 Liter, Supercharged Dodge Challenger that gets 610 at the crank courtesy of Arrington Performance and probably 9 MPG on a good day...on the highway...in sixth gear...sometimes the Motopsychos let me hang with them!  Gulp, Gulp!  STILL no guzzler tax...shhhhhhh."
Tom Ellis uses ellipses to underscore the length of his wife's Merc:
"World's longest 2door sedan...   1965 Mercury Montclair Marauder  ...  spiffed up  for last years Cottage Grove Car Cruise ...    Stylin'!!     My wife's car ...   i have to drive the truck....     but... it qualifies as a glorious gas-guzzler..."
With the gasser-style flip front clip, blown mill, and Mad Max livery, Ray Oliver's Chevy is the very embodiment of climate devilry:
"Here's a few pictures of my Hooptie I built. It's a 1963 Chevy truck. But it's been modified. It's got a 1972 front end with power steering and power disc brakes which it dearly needed when you see what resides under the hood. Hidden under there is a 350 Chevy. It's been bored and stroked to 385 C.I. It's got a B&M blower sitting on top and is putting out close to 600 HP and 600 TQ. It will Smoke the tires in the first two gears. And it will burn thru a gallon of gas while only traveling about 7 miles. If you keep your foot out of it, you can hit 14 MPG on the freeway, but that's no fun. Enjoy."
Up in Canuckistan, Kane Rogers loves his Z06 so much he treated it to a European vacation:
My baby: 2002 Corvette Z06, Electron Blue with a Black interior. 405 horses at 6,500 RPM and 400 lb.-ft. of torque. Bought it in 2008 with about 17,000 miles on it and now at 26,000 it remains completely original except for fresh Firestones. A real beast and a real head-turner, too. The little red emblem at the front fender vent opening is from the Nurburgring, where I took part in Earth Day celebrations in 2008. If this car was a trumpet, I'd blow it every day! Happy Earth Day, Al, you totalitarian freak!"
Bay area reader Scott is a regular freeway Albert Schweitzer in his ginchy Fairlane:
"This is my 1967 Ford Fairlane GTA. Stock 390cid. with a 625cfm Holley carburetor. Living in the San Francisco Bay Area I like to do my part saving mother earth by scaring hybrid owners off the road. Especially Chebby Volts. I figure every one of those I keep off the road potentially saves the driver and passengers from being enveloped in flames should the Volt battery decide to go kaboom. Makes me feel good to know I'm saving lives as well as keeping all those nasty and dangerous rolling nicad bombs off the streets. "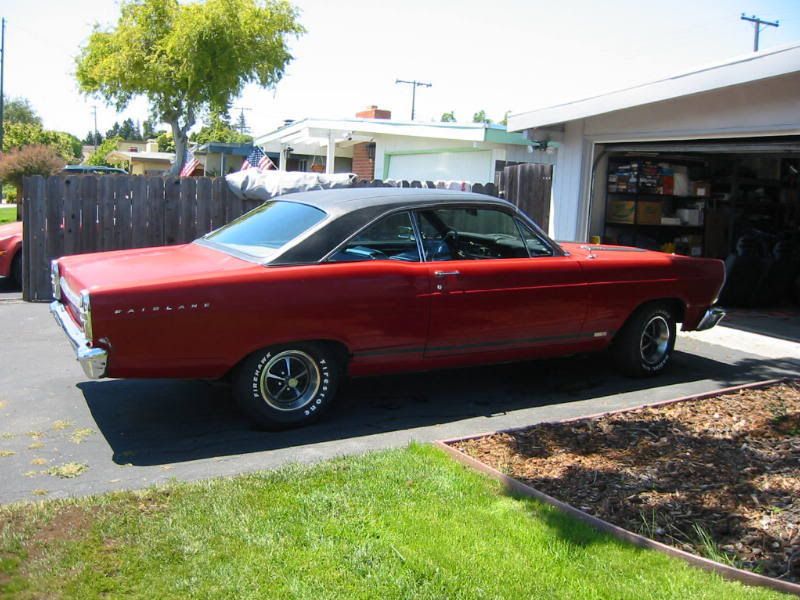 Meng M. of Studio City, CA submits two cars that are trucks that are also cars that are also trucks:
"What's better than one El Camino? Two (well no, the answer's at least three or four but there's only so much garage and driveway space—I guess there's always the lawn).
The 71 was restored back in 2005 and received another round of upgrades in 2010. It has a 470HP SBC 383 with a 700R4 w a 3:73 Posi rear. It's also my daily driver and the car I take to drop my four year old off to pre-school—Airbags!?! We don't need no stinkin' airbags!!! Nothing beats pulling up to his school amongst a sea of Priuseseseses, Honda Fits, Euro Mommy vans and "Crossovers", aside from maybe pulling into a Whole Foods parking lot and doing some burnouts.
"The 87 isn't as impressive but probably my favorite of the two. I built up the SBC everybody loves to hate, the mighty 305 and did it smog legal to boot. More for the challenge than a desire to comply with California C.A.R.B. It has 53k miles, mated to a 200R-4 modified to Grand National specs with a 3.73 posi rear. It's a more sedate 325HP but can still chirp the tires in second and occasionally third. Plus, the baby seat looks more white trash appropriate in this car."
Advice to crystal-gazing Earth-Firsters in the Arizona pines: when you see "Grock" and his Ram coming up through the woods, RUN:
"This is my 1989 Dodge 4WD Ram Charger work horse. The best mileage I ever got was about 12 MPG. I bought it brand new in 1989 in Tucson,AZ, it now has 145,000 original miles. The plow was a add-on when I bought a cabin in the White mountains in Alpine, AZ. 8050 elevation. It still has the original spare tire. The body shows a little wear and stress but don't we all."
Nathan and Holly from Seattle are inseparable from Charlie, their beloved F-150:
"Humbly submitted for cruise in consideration is our 1991 Ford F150 "Charlie the Nature Squisher" in all his glory.  Powered by a 5.0 V8, shod with 33 12.50s, and with a 4.10 gear ratio, this truck guzzles gas at a Seattle hippy heart-attack inducing 8 MPG.  This winter when Seattle was paralyzed by a couple of inches of snow that turned its many hills into slip and slides, our fearless and faithful 4x4 effortlessly carried my wife and I on a rescue mission up and down Queen Anne Hill.   Its headers are rusted through (and next on my long list of things to replace) so it roars with the fury of a thousand dead dinosaurs who paid the ultimate sacrifice so our dinosaur may live today.  We salute you Mr Triceratops.  For without you, we'd all be Nissan Leafs driving Ninnies! We love Charlie and the only way you'll take him from us is to pry him from our cold dead fingers."
Whiskers on kittens and trailer park Caddies... M. Christian sends in a few of my favorite things:
"My 86 year old auntie's 1985 Cadillac Fleetwood Brougham came with all the bells and whistles they had available in 1985. It still has them and they all still work. Everything is original except battery, tires and hoses and it has 64,000 miles because she only drove it to the Post Office. Please note the trailer park ambiance of the background."
Friday April 20
Welcome Ace of Spades HQ readers! "4/20" is here, with a fresh stash of carbon chronic for your bong.
Nothing swells one's patriotic American pride like balls-out big cube 60s muscle, like this fine example submitted by Kentuckian Greg Gossman:
"I bought the car right after high school in 1981. I have only put about 6K miles on her, but she has had more engine swaps than a NASCAR team! Right now I do believe I have the FINAL VERSION near completion. She's a 1969 Camaro, no SS, no RS, no Z28, just a plain Jane Camaro. Well if an 850 HP normally aspirated 427 is plain Jane! I have a T-10 four speed with a Hurst Vertical Gate shifter, 12 Bolt rear with 4:10 gears and a 8-point cage. I tubbed and back halved the car. I did the interior myself. The engine has all the tricks I know of in it, a rather large solid roller cam, pistons that have domes the size of the Rockies, etc, etc. I don't want to give away all my secrets, there are some cars around here who need to see what a "REAL MUSCLE CAR" is if you know what I mean and I am sure you do." 
Anchors Aweigh! Reader Jeff Talbut is apparently assembling his own climate pirate navy:
"One of the pics is filling the 30gallon compressor tank with $5.04 Diesel, we used two V8 Jeep Grand Cherokees and a 3/4 Ton Diesel Van to perform this evolution. Sand blast and apply SIX coats of epoxy on FOUR 32' Aluminum hulled Marinnette Motor Yachts (twin 250 Mercruisers each....measure fuel consumption in Gallons per Minute..thank you) I submit extra points should be allocated for the dust created, vast quantity of Zylene and Acetone used(we left the caps off the cans too!) You will note that I also brought a young child along to indoctrinate into the 'Ways of Waste'."
Kirk Kelsen is back with another Coventry Cat, guarding the Golden Gate:
"Sure, I liked the 2007 Jag XK, but it just needed a skoche more power. In steps the 2011 Jag XKR with various "sport" buttons that cause wheel spin at ordinary stop lights, and an exhaust note like whiskey-gargled chainsaws. Here she is in Nancy Pelosi's foyer, just before savaging the Marin Headlands (background) last Tuesday."
Virginia's Randolph Addison wields an angry Teutonic CO2 weapon:
"2009 Mercedes Benz C63.  Comes with a manic, very loud, oft-backfiring, and always-incensed 6.2 litre V8 (it isn't 6.3) that, driven spiritedly, returns about 8.5mpg."
It just don't get much better than this. Behold the beautiful decay of Bruce Wayne's '41 Ford clodhopper, and his Model A hot rod on a stealthy nighttime carbonation mission:
"My newest, a 1941 Ford 9N tractor! Aint it a beauty? Yes It does smoke abundantly,   My neighbor asked if I was mowing grass or burning it. The night time picture of my traditional hotrod was taken for those magazine editors who moan about how hard it is to photograph a black car."
Holy smoke! Things really are bigger in Texas. Houston's David Goza explains:
"At a secret location in Houston, these stealth carbonation units await a signal from the carbon-master's hi-tech lair.  When that signal arrives, 32 engines fire up and begin converting diesel fuel into electricity and CO2.  Each gleaming white box contains a 6-cylinder, turbocharged, intercooled 16 litre diesel engine driving a 500 kW generator.  That's something north of 21,400 hp starting with the click of a mouse.  Full load fuel consumption is about 17,600 gallons per day.  Even if the Greenies find and shut down this carbonation location, there are another 62,000 hp of hidden carbonators at other Houston locations that await the carbon-masters command to de-sequester some carbon."
It's Suburban bliss in Flyover Country for Oklahoma's Anthony Pate:
"2000 Suburban with added 32" Mickey T's for extra fuel IN-efficiency, this 11 mpg huntin' & fishin' chariot hauls field dressed deer and coolers full of iced fish with class & dignity. Don't let the purdy exterior fool you, while I do baby my baby, she's been spewing obscene amounts of CO2 for more than 190k miles. You're welcome, trees."
Power-to-weight ratio is no problem for Idaho spud baron Steve R :
"These are pics of our Dromader M-10..'Aerial Applicator'. Polish Airframe 1000 horse Garrett ..Earth atrocities is what we DO !...even other Cruise in allies run when  we pull the 'money handle'."
"Dick Danger" has a Jeep that waters the trees while feeding them CO2!
"This here beauty is a 1994 Jeep Cherokee (that's right, like an Indian). An inline 6 cylinder engine with holes throughout the exhaust while pulling 13 mpg guarantee the plants have plenty to suck on while photosynthesizing. And what's more those thirsty lil bastards can get a drink from this state-of-the-art plant/honking a**hole hydration delivery unit."
Thar she blows! J.M. Heinrichs submits this ORCA-class patroller from the Royal Canadian Navy:
"My nephew often drives around in one of these, twin Caterpillar 3516Bs."
It's the Little Engine That Could... Carbonate! Mike Porter explains:
"OK, so I don't own it and I was too little to steal it when I saw it, but this is one of transportation's greatest carbon creators.   Weighting in at 762,000 Lb. it carried 22,000 gallons of water and 27.2 tons of coal to turn the water into steam at up to 80 mph.  There were only 25 of them, but they graced the western mountain ranges from 1941 to 1959."
Bob Sherrod needs creature comforts when he's on-the-go:
"Attached is a photo of my RV for your edification.  Its not the biggest RV, nor is it the least fuel efficient, but it is by far the most fuel hungry vehicle in my fleet.  She's a 2000 Chinook Concourse with a Ford 6.8 liter V10 and a 37 gallon gas tank.  She only gets 10 MPG, but provides a very comfortable ride between fill ups.  Since she drinks so much we don't usually take long trips, so we're almost always in the Florida heat, and that means running the AC wide open once we stop and plug in.  The best part is that we brought her home last year on Earth Day.  Take that Mother Earth!"
Thursday April 19
Welcome Tim Blair readers! For those of you unfamiliar with my good Aussie mate, take a quick click trip across the Pacific and keep up with latest in politics and carbonation Down Under. When it comes to guzzling petrol, our Australian brothers can teach us a trick or two!
Illinoisan One Percenter Kenneth Hartman occupies whatever body of water he pleases in his floating Rolls-Royce:
"2002 SeaRay 410 DA. Twin Caterpillar diesels, each at 340 hp. Cruises at 28 knots, getting one nautical mile to the gallon. Don't she purr!"
To save fuel, the government recommends you stay home. To use fuel, Alex Beltchev takes his home with him:
"My submission for this year's Gaia slaughter fest is my American Dream equipped with a 315HP Cummins diesel.  The documentation says it gets about 6 miles to the gallon but that's probably not taking into consideration the weight of the Tahoe I drag behind it!  We've been through at least half the states with this rig so I consider us to be equal-opportunity plunderers of the atmosphere!"
Perennial Earth Week Cruise-In participant Scott Wilcox is back again with a fresh Sprinter-load of insanely fast Italian two-wheelers from the Pacific Northwest:
"I always look forward to participating in this worldwide event courtesy of the Iowahawk Blog. This year is no exception. I present my 2011 RSV4 Aprilia which is carried warm and snug in my 2007 Dodge Sprinter Van. Why burn fuel in one device when you can burn fuel in two. The Aprilia pumps out a sphincter tightening 185HP which turns your knuckles white just thinking about it. I pour in gallons of VP110 Leaded to make it happy.   The Sprinter consumes boat loads of top grade diesel, and not that pussified BioCrap either. I make all of these sacrifices for the greatest MILF of all time, Mother Earth."
Machines that save trees... what will they think of next? Minnesotan Steve Stenger never outgrew his Tonkas, but his Tonkas outgrew him:
"Saving Gaia the right way - with a diesel belching Vermeer 495 cable plow. My company used this machine to isolate Oak Wilt infected trees from adjacent healthy trees, by cutting the roots with the five foot knife at the rear. I put several hundred miles on this machine, as well as several others, all at a leisurely one to three MPH. Over  hill and dale, and through a few drain fields, sprinkler lines, and buried electric and phone lines, we saved hundreds of thousands of Oak trees over the years. Loud, noisy, and made in Pella, Iowa."
Canadian reader Diana Binks saves Fido the hassle of dog-paddling in her mighty seagoing vessel:
"This, I will submit in the neglected category of 'regal yellow submarine'."
Who need hybrids and their payments? Jayhawk stater Ben Jilka adheres to the recycle / reuse ethos of the true environmentalist with his humbly handsome (Mazda?) pickup:
This truck actual was quite efficient- it averaged 36.7 mpg for the first 100k miles on it.  Currently it is stationary as the tranny is out, but in honor of Vladimir Lenin-Earth Day, I will start it and let it run for a couple of hours.  Thanks for your consideration.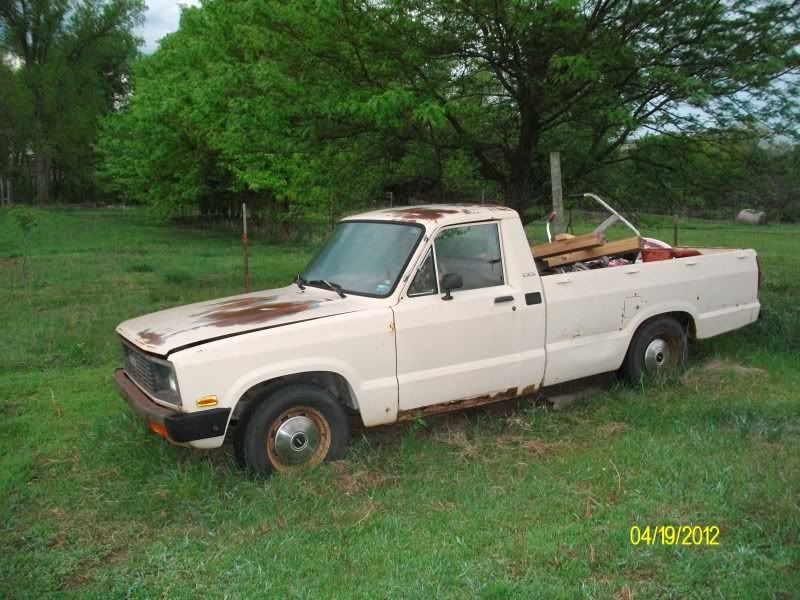 Oh yeah, come to Poppa. Doug Mooney knows my weak spot for flathead Ford bombers:
"This entry is my 1946 Ford Deluxe. This earth-friendly vehicle was built in a factory which had been recently converted from the production of heavy bombers to the greener activity of personal vehicle manufacture. The "business coupe" seating arrangement gives a sleek aerodynamic roofline, with just a front bench for two (or three, or four) passengers. The column shifter was ditched long ago for a Lincoln floor shift, providing economy for the careful driver. Original Moon front discs and rear skirts (not pictured) are evidence that a previous owner was indeed an early hyper-miler. This obsessive earth warrior went so far in his mileage efforts as to fill the very seams of the body and to give the car a side-pipe scraping ride height. Just a dainty two-barrel carburetor drips fuel into the engine, with two more to serve as back-up. A Sharp aluminum intake and early Edelbrock heads adorn the flathead V8, helping to lower weight and increase efficiency. The brightly colored front and non-original over-sized tail lights maximize pedestrian safety."
Greg from New Hampshire sez "Mopar or No Car":
"This is my 1976 Dodge Aspen R/T which has been carbonating the state of New Hampshire since the 1980s. This was the first year of serious emission control by Chrysler. The horsepower lost to emission control actually exceeded what you ended up with. During the restoration every emission control device down the smallest of hoses mysteriously disappeared. They were never seen again. Not to worry the State of New Hampshire requires no emission testing for cars 1995 and older. Live Free or Die. We savor or individual right to bear carbon emissions. The car, 366 cu in V8, 11 to 1, 2.02 ported heads, big lumpy cam, Holley strip dominator intake, Holley 750, MSD, Hayes strip clutch. The original crappy overdrive 4 speed transmission and the breakable 8.25 rear end were replaced with a 1969 A body 4 speed and a 1968 B body 8 3/4 rear with power lock posi, 4.30 gears, and Moser axles. Also included Caltrack racing suspension. The Polar White color is in honor of our friends the polar bears in the great white north who love the fact that's it's warming up due to carbon emissions, its fuc*ing cold up there. (We know that warming is a crock but the bears believe it and they think they are getting warmer, don't tell them). A 12 gallon fill up in the fuel cell gives about 100 miles of joy but really standing on actually gives far more joy…far less miles. Happy carbonating."
Happily I have an update on the Coupe of Wrath: behold metalflake maniac Jerry Didio with his smiling grille in my grille, fresh from the paint booth. The tasty coppertone you see here is Ford Emberglow, a special paint code only available on '66 Mustangs and T-Birds. A tone soon to grace the Coupe's entirety. Also note the '49 Cadillac dash which we harvested a few years back.
Wednesday April 18
Don't that put a patriotic lump in your throat and exhaust tears in your eyes? Mike Stevens sings the praises of his miniature tribute to the flyboys of WWII:
"The single-engined blue beauty is a remote controlled 1/5 scale (8 ft wingspan) F8F Bearcat. She's being pulled through the sky on a twin cylinder 105 cc gas two stroke, and has been clocked at 107 mph by radar. my other 107 LL aviation fuel burner (recently lost) was a 1/8 scale (almost 12 ft wing) C-47. She majestically bored holes in the sky with a pair of 36 cc single cyl two-strokes, with an ever-so slight trail of beautiful exhaust smoke. Hopefullly for next year's event we will have a similar sized B 25 for entry into twin-engined fun. Nothing like the low-throated roar in the countryside skies of Virginia, pissing off various 'nattering nabobs of negativity'."
The badass mill in John Marcus's bare bones econo-cruiser more than makes up for the lack of creature comforts:
"8.2 liter 1000hp V10. Eats more gas than any man ever seen."
War whoop! Californian Steve Mitzner tracks the noble history of his Native American Indian:
My contribution to this years Earth Week Cruise-in began in the summer of love, 1969. When I became the proud "caregiver" of an all original,  native American, "Indian" motorcycle.  A vintage, 1938, 80 cubic inch, F head, four cylinder.
Sporting a 3 speed hand shift, Foot clutch.   It is a masterpiece of native motorcycle ingenuity. I have recently spent many moons, much wampum, firewater & beer,  to completely restore the engine clutch  transmission & wiring. I will soon take it to the sandblasting / [purification lodge]  for a complete war paint & restoration job,  then hopefully, may all  proud Indians rise up... and take back and [Occupy] what's rightfully theirs.  
I was told  [by a shaman] that,  it being an American "Indian" motorcycle, its carbon footprint is in complete harmony with, and compliant with, Mother Gaia, and  [all pagan, earth worshiping, religions!]   He did warned me!   "White Man sometimes lie & con",  "Take land for worthless beads, now take wampum & freedom, for worthless carbon credits" ! (sic)  [May the great carbon portend-or  in Chief....Al Gore  forgive this ignorant Nobel Savage!]
Although it's carbon footprint is pure and relatively small,  this proud, elder, 73 year old iron pony has traveled many trails, taken many scalps,.. and belched out much  life-giving carbon!  [not the global warming type]   The great earth sprit gods are much pleased!
Pat Wilson of Austin, TX sends a gauzy glamor shot befitting his swanky lil' CO2 crime:
"The Red Baron basks in the Austin sun.  You can see the particles from the exhaust a block away!  No fuel gauges on the 1953 MG-TD--you dip the tank with a wooden dowel from Home Depot!  Ten inches of fuel is good for a coupla hours!"
Yesterday we heard from Fritz from the Wrongtool Workshop (scroll down); today a rebuttal from his Beemer torturing partner Earl:
"I see the haole is at it again, this time it looks like he is in some poi induced stupor. Don't let the talk of carbonation through superior peat power fool you, he is probably hammered on kava on some damn beach -honestly, the only reason he has so many carbon transformers is he keeps breaking the things.
Anyway, some us work for a living, and having to expend valuable energy within my Office of Excellence to get the spondelux, I have poured paper resources into the Malaga Marauder in an attempt to more completely deplete Gaia's easy to obtain liquid resources so we can get the fracking fracking going.  The heart of the Marauder was pulled, new 9.5 pistons (necessary to ensure only premium hydrocarbon products would awaken the beast) fed thru dual sidedraft Mikuni 44PHH carbs.  The sound of the carbs whilst at full chat dispensing finely distilled liquid petroleum is glorious.  The added benefit is that they move so much air they are almost as much a menace to low flying birds as wind farms.
Of course the Malaga Marauder resides with its fully functional counterparts, the P1800 Estate (Thor's Golden Anvil) and the M Roadster, so whilst grease-boy is waiting for a Genuine BMW Part to come over on the Spam boat, I can repair to the veranda with a fine liquid product made by setting fire to parts of the bogs of Scotland.
PS - Please note my former Carbonating machine on the front of Thor's Golden Anvil"
Bear Mountain Bob from Bear Mountain, NY keeps America's toothpick industry humming:
"Nothing says "I love you Gaia" like loading up next winters firewood! And why risk splinters when I can let Massey-Ferguson do the grunt work."
Who says American cars can't corner? Reader "Jack" negotiates San Francisco's famous Lombard Street in his lil' yellow carbonator (more pics here):
"My 62 Nova daily driver. ZZ4 crate motor. Gets about the same mileage as a SUV of twice the weight."
Andrew Siff paints a family-friendly Norman Rockwell hippie nightmare with his faithful Suburban:
"My entry for your consideration. Gone for me are the days of high revving dual feed Holley sucking 12a rotary engines. The arrival at last thanksgiving of child number 4 necessitated a bigger car, and Mama gets. This baby is the same age as my college freshman son, but with a bigger, heavier block. Fully loaded with kids, dogs, and accoutrement, she gets a miserly 10.3 mpg on the 3 hour trip to visit the inlaws, all the while assuring the flora along the way of all the carbon it can photo synthesize."
A constant schedule of burning airline fuel gives my old pal Steve Carlson the pick of the litter at America's rent-a-car counters:
"As you know, I try to keep up the good work when travelling. Here's my ride from a recent trip to Silicon Valley---a 2012 Dodge Challenger R/T with a 5.7L HEMI V8. Future rental cars include a Mustang GT 5.0, and a Cadillac CTS."
Double trouble from Kenneth Featherstone:
"My 1967 Camaro RS has the original 327 V8 with enough modifications added to fail the state emissions test multiple times...and it still gets better gas mileage than my BMW M5 with a 510 HP V10. Top speed of the Camaro is probably 150mph...the M5 will do 202."
Tuesday April 17
Day 2 dawns on our cavalcade of carbonation with a fresh batch of amazing  reader conveyances. Get yours in soon!
The Little Old Lady from Pasadena? Nope, Randi Gifford (the leadfoot granny who stomps the throttle on this Super Stock Dodge) hails from Iowa:
"I'm a 66-year-old grandmother. Here's what the kids refer to as 'Gramma's kick-ass ride.'"
"The Reverend Yukon Jack" argues that despite its stationarity, his beloved log splitter deserves a showcase in the Earth Week Cruise-In - and I heartily agree: 
"Hey, it's got wheels and an internal combustion engine so it qualifies, right? Seen here is my mechanical jihad against the arboreal insurgency.  Guaranteed to strike any tree-huger with apoplexy once he sees his preferred fetish decapitated, quartered, and stacked.  I dunno how many pounds of needlessly sequestered carbon I have here, but rest assured that this winter it's all going up the chimney and into the atmosphere where God intended it to be."
Crikey! Our first Aussie entry of the year comes via John McCormick of Scone NSW, who is rightfully proud of his Chevy Bomba from Down Unda:
"Yo, Dave: 
Here she is: a 1937 Australian built Chevrolet Master Deluxe. Six cyl displace 216 cu in (3.5L) in a straight line. The chassis and engine come from Detroit; the body is built by Holden. The engine is original, but the alternator replaces the generator...need the power for the AC unit that makes this car drivable during Oz summers. Right hand drive, of course. The background is the Scone Horse Parade. Scone is the Horse Capital of Australia."
4 wheels, 2 wheels, it don't matter. Fritz from Alabama's Wrongtool Workshop is back again with video evidence of their latest Beemer antics:
"Greetings once again from the Wrongtool Workshop, home of precision hammers and the World's Most Seldom Updated Website ! Alas, I believe we were remiss last year and missed the Virtual Cruise, but in our defense it did involve our friends in Scotland carbonating in the form of burned peat and halted the germination of barley.
This year finds the Wrongtool Workshop once again geographically dispersed due to the vagaries of the Federal Government, and whilst Earl slumbers in Alabama, I have been sent as a representative of the Free State of Alabama to The Peoples Soviet Republic of Hawaii, home of the worst drivers on the planet, if not the visible universe. The state sport is not, in fact, surfing, but Traffic Jamming. Entire generations have been born, raised, married, and spawned generations of their own trying to get anywhere on the H1. However, for carbonating while going nowhere, they are masters.
As loyal followers of your Fabulous Earth Week Virtual Cruise, we have no doubt that your millions of devotees and our fan are waiting breathfully about updates on the carbonating we do with The World Famous The Taxi - so successful were we at getting more power out of the "mill" that we were able to generate the attached "whats wrong with this picture" picture - 112 leaded power snapping mere steel, if that is not an extened middle finger to Gaia, we don't know what is, but then, we probably don't."
Utahan Nate McCord patrols the Intermountain West astride this ginchy 34-year old Kawasaki:
"My 1978 Kawasaki KZ650. It's not the biggest, baddest hydrocarbon burning motorcycle out there on the streets but it is a beautiful example of what standard 70s vintage Japanese bikes were in their prime. There aren't too many of these remaining stock and most of them have been cut up or left to rot behind the barn someplace. I was actually selling these bikes in 78 and though I never had one when new, I found this one 18 months ago, rode it all summer and will be breaking it out of the shop for more miles in a couple weeks. I'm overhauling the brakes right now but being held up by a broken bone in my foot and a sprained ankle as a result of an auto accident last month."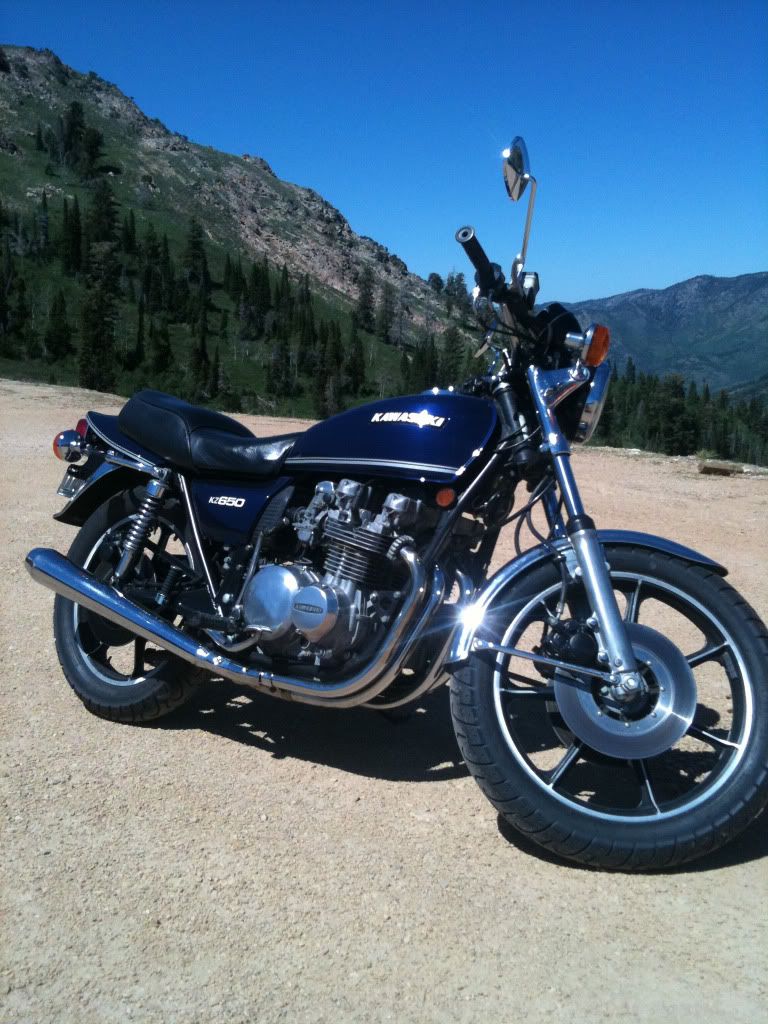 You all know how fond I am of '28-'34 Fords, but this winged one from Jacksonville FL's Steve Williams might be my fave yet:
"Allow me to present the 1929 Ford Tri-Motor.  Not exactly mine-it belongs to the Experimental Aircraft Association- but I'm an EAA member and I paid for gas when I rode in it.  And on this baby, that counts for a lot!  Three Pratt and Whitney R985 radials provide 450 hp each. With a  90 mph cruise at 60 gph, almost none of that power turns into speed, but instead into glorious noise, CO2, CO and a bunch of other carbon by-products.  As a bonus, the corrugated wings provide additional heating through vortex action. It tortures the very air that supports it.  Truly an epic piece of machinery!"
How much melted rubber did those fenders collect in 25 years? From Illinoisan Dave McWilliams:
"My 1987 Formula Firebird, just after purchase in Oct. 1986, now residing in my garage awaiting complete restoration."
Elegante! Stylish midcentury big-cube fuel consumption, via Russ Hardin:
"This is my dad's '68 Olds Toronado. Had to give it a mild resto after he passed away. By mild I mean an Isky cam, a .030 overbore on the stock 455, a double pumper, and straight pipes. Now it won't budge out of park unless I'm playing Wagner. If this puppy sucks any more gas it'll force a singularity."
Wwwwinggg-ga-ding-ding-ding! Jim Hall enjoys perfuming Arizona with his vintage 2-stroke Spanish fragrance dispenser:
"1970- Bultaco Pursang Mk4. Loud and tears up the trails, with lots of oily 2-stroke goodness. The old tractor in the background smokes just as badly."
Cullen Sauer gives Manifest Destiny a hand in the seat of his JD loader:
"My entry for this years Cruise In is a slow moving, Diesel Fuel burning, John Deere Crawler loader. Diesel fuel is my dinosaur bone elixir of choice for most of my vehicles. This American made work horse was born in 1974. Pretty sure birthplace was in Dubuque, IA, but I am not convinced as I can't find a Birth certificate. Hmmmm sounds familiar. She's a John Deere 450B loader. Her turbocharged 4 cylinder diesel has more than enough power to push large boulders out of her way and push down trees in her way She's a lot like Rosie O but no where near as ugly. Close in weight though 8+ tons. I use this one crash through the woods, blazing new trails so we can blast down them later on our gasoline burning Dirt Bikes, ATV's and Snowmobiles. Tree Hugger warning; I use a 2 stroke gasoline powered Husqvarna 372XP chainsaw to cut the downed wood.Then we split it with a Diesel Powered, Skid Steer mounted log splitter. We then burn it in our non-catalytic converter wood fired stove. I love the smell of woodsmoke on a cold northwoods morn."
Erik in Colorado is back, with an update on his own personal Doc Hudson:
"I first submitted my ride in 2010 (a 1952 Hudson Hornet) right after dragging it home from Utah in a 18 hour turn-n-burn.  With the engine just loose under the hood and the rest a little worse for wear, it only took about a year to get it running and drivable.  Now it's pretty much my daily driver.  Under the hood is the undisputed King of the Flatheads, 308 cubic inches of big-six, side-valved motivation.  Fed by Hudson's venerable Twin-H dual carburetor set-up, two big Carter WA-1 1-1/2" bore single barrels, and spinning a battle-tested, cast-iron Hydramatic slush-box I enjoy surprising those who think this rough old car can't move.  To date I've re-wired everything for 12V, installed a nice 4-core Walker radiator (free, thanks Larry!), modified a gear-reduction starter to fit, MADE my own HEI ignition, electric wipers, radial tires, and FULL-MOON disks.  It'll do 80 down the Interstate without missing a beat while riding as smooth as can be.  Next on the to-do list is fixing a leaking Hydro (I don't just park - I mark my territory. MINE!), new rubber all around, and getting the upholstery and interior done so my little wrench-monkeys can ride too."
"Please find attached proof of my intent to stick it to the Ultimate MILF in 3 most delectable ways- Foreplay will begin with my 1967 Jaguar E type (made the same year my parents' filthy love-fest produced me). Gaia will curl her toes as the Jag's 4.2 litres of British charm prove what a stiff upper lip I have. This beautiful pussy cat got 14 mpg off the showroom floor, I'm fairly sure her penchant for petrol imbibing has only gotten better since then.
As Gaia warms up, I bring out the throbbing python of love- my 6000 square feet spread 'em that will last with 100 years of staying power. My carbon spewing mansion has huge 18 foot ceilings, 4-some 4 car garage, voyeuristic heat leaking windows far as the eye can see, pool with propane-sucking hot tub, and xxx movie room (don't worry- I leave my car running to offset the carbon I would produce driving to the google-plex local movie tavern.)
After her ravishing, Gaia gets a little post coital pillow talk from the other wench in my life, my trophy wife of 23 years. This lesbo-palooza will give Gaia what she really wants- lead poisoning with the EPA in mind. Please note the grouping- crotch-tastic, Sherry!"
Monday April 16
First day of entries, and what an assortment we have!
Pontiac is dead? NUTS, sez Fred McDermott re his tasty sleeper Poncho ragtop:
"This is my 1968 Pontiac LeMans, full frame-off restoration.  It's got an environmentally incorrect (no emissions controls whatsoever) original Pontiac 400ci engine bored out to 461ci with a Butler Performance package that results in about 550HP on pump gas (premium, of course).  Virtually everything is new or restored.  Upgrades include front disc brakes, a 5-speed overdrive transmission and completely upgraded suspension.  It's a dream to drive and when those second two barrels kick in, hang on!"
Scott Briscoe is right proud of his hellacious big block '70 Jimmy:
"I got this truck in high school and have produced at least 152,000 pounds of CO2 from this 6.6 liter big block chevy over the last 13 years.  This baby pumps out a million cubic inches of exhaust per minute at full power...  Nothing but good times!  I've been wanting to enter it in your exhibition of human ingenuity for years now.  Top speed 142 mph...  I've attached a picture of it when I first got it and the most recent picture I have of it.
Specs: 402 big block chevy, Edelbrock Performer RPM manifold, Holley 750 cfm carb, headers, exhaust, sm465 transmission, upgraded to disc brakes, trakt-lok rear differential, HEI ignition, MSD wires and some other goodness.  I'm in the process of fuel injecting it for a little added CO2 extraction!" 
It's 10 wheels, no waiting for reader Rob Baas:
"So, yeah, my Jeep is a 4-cylinder, but I'm proud to say she only gets about 17 MPG on the highway.  And the mileage is much worse when traveling at two miles per hour, as shown here on Lippencott Road in Death Valley. And since motorcycles get great gas mileage, I've made sure that each of mine has an exhaust system that is most definitely not street legal.  Hopefully that counts for something.  I'm just trying to do my part..." 
It's always satisfying to know you've made a difference in the environment, so I swelled with pride when I read this entry from Chris Georgoff:  
"As you may recall Rabbi Dave, I previously asked you about the ethical propriety of buying a Shelby 500 GT. Well, I took your advice, and I am also amazed at what a Gaia Blessed and Friendly car she is as well! Not only is she a equitably fair-traded car, she also packs an 100% organic aluminum block which gets her 15 mph in the city thus avoiding the "gas guzzler" tax, and which allows us to conserve more petroleum products for the production of the F-1 tires!
In addition, with a 6.2L plasma injected 610 HP V8, and 0 to 60 acceleration in 3.8 seconds, she maintains a ecologically balanced and harmonious stewardship over not only the roads but also over Ferrari 599's, Porsche's, Audi's, Lamborghini's and pretty much anythIng else. Even Polar Bears shit recycle-able gold bricks of joy at her passing and red listed Amazonian jaguars growl in approval as she idles at stop lights!"
Brock of the Free North Carolina blog shows slowpoke hippies the bird with his classic bowtie pickemup (more pix here):
"My current anti-earth contraption. '69 Chevy C-10 shortbed, 350 motor, 10:25 to 1, solids. Crane open chamber, shaved, Speed Pro pistons, Holly 850, 350 race trans, 456 rear end. When I hit it from a standing start, I think I smell napalm in the morning......:) I guess Street Radials would cure this, but what the hell."
No worries, mon! Samuel Moser relaxes in the Caribbean sun with this Super-Sized generator:
This is a 20,000 hp gas turbine oil fired electro-city plant. Only has to have over 2 million gallons of oil on hand to keep her running. Under that mess is a real big turbine that sucks that oil down at 200 gallons a minute. All on the b-a-utiful island of St. Croix." 
Where does he get all those wonderful toys? "Ferrari Bubba" has been a perennial participant in the Earth Week Cruise-Ins, going all the way back to #1 - each time with a different Ferrari. He submits a photo of his latest, basking in the life-giving sun: 
"Seven year veteran, proclaiming (to paraphrase Orwell's sheep): 8 cylinders bad, 12 cylinders good!  All those crappy mid-engine 8's failed to warm the Winters here in 'Bama, so upgrading to a V-12 seemed like the only reasonable course of action.  I didn't really wanna buy it - I had to.  It's for our planet, after all.  So,here's my altruistic, free-range, certified organic 599GTB Fiorano F1.  5,999cc's quickly create 620hpof guilt-free insanity.  I feel warmer already." 
I don't know what those tanks are on Troy Uden's truck, but I hope they're DDT:
"Oh the joys of military surplus and technically this would be recycling  and being green, but how green is a 400hp Cummins???   1984 AM General 915A1 with a M872 triple axle flatbed."
Like me, Dan Hoover enjoys La Dolce Vita aboard a Lambretta -- specifically this '55 LD 150 MK II:
"I believe this showpiece of guappo engineering is especially apropos for this year's event in that it goes 120+ miles on a gallon of gas while simultaneously generating a large cloud of dark blue smoke, on purpose. If you look closely at the starboard side, you'll see I have it set up with a Hurst shifter, suicide/jockey-style. It is finished in flat black rattle can primer.
I like to ride around contemplating the juxtapositions unique to this particular vehicle:
- economical transportation vs. a wanton disregard for the atmosphere
- elegant mid-century Italian lines vs Pennsyltucky utilitarianism
- super cute vs rolling death trap
I need to break down and get anthoer seat cover so my old lady can ride along with me."
AMC Javelin police interceptor? The Florida Highway Patrol's loss is reader Greg's gain:
"bought it at the sanford florida police auction in 1976 for $1200.00. had a few modifications... edelbrock hi-riser, 3 into two dual carburators, hooker headers, 3/4 race cam. my claim to fame? 11.02 sec quarter mile posting at the local track. seems the florida highway patrol had used it as a pursuit vehicle. alabama used them too."
Floridian Tom Hansen is all about educational vehicles:
"This is my 1951 Chevy School Bus. It started life as an ambulance in Washington State before being modified to run the rural mountain roads in search of school kids. It has 8 (count 'em) roll-down windows and the passenger door was hand-cranked to allow the little beasties access to the 3 offset benches in the cargo area. The headliner was formed sheet metal with flush mounted screws. There was even a hand carved "Johnny loves Susie" etched into the headliner. The rear flashers were converted to huge and very bright brake lights. The original flat 6 was ditched for a Corvette 327 and a Powerglide. The chassis is a 1-ton heavy duty so all the parts are beefy. While it sucked up the go juice between its heft and 4 barrel it was surprisingly quick. I never knew what kind of gas mileage this thing got. Neither the odometer or fuel gauge worked. We "ran the powerlines" with it on many occasions and it was a very capable off-roader. I would cruise the beach in this and the chicks would flock to its original paint, skooling on their minds. Yes, that's me in the photo."
"Uncle Facts" emails with photos of his all-business rice grinder:
"My entry for this year's EWCI is my 01 Kawasaki ZRX1200R with some tasteful mods. The bike seems to have about equal parts of horizontal and vertical acceleration capabilities. Not that I've ever wheelied it, that would be illegal."
Sunday April 15
I'll get things rolling with a somewhat dated build photo of my latest project, the Coupe of Wrath. This 1932 Ford 5-window coupe will feature an L76 327 Chevy small block snatched from a 1965 Corvette, drinking go-juice from dual Carter AFB 4 barrels. Carbonating a vicinity near you this summer!