I can't stop thinking about my desert carnival experience in late November. As The Seekers and Nick Cave so eloquently sang, the carnival is over, but man do I miss it. There's nothing like all of those rigged games, scary cracked up rides, cheap stuffed animals, bright colors, and that whooshing sound of so many contraptions beckoning you in a methamphetamine haze. Smack in the middle of nowhere-ville, Yucca Valley, made the adventure even more surreal.  And I love the carnies. If there is ever a carnival in your area, go. Who cares if you're cheated or don't trust the rides or can't stand pot smoking teenagers (and really, you should get over that, because we all smoked pot out of coke cans at one point in our lives). Anyway, keep this world in business, no matter how crooked it is.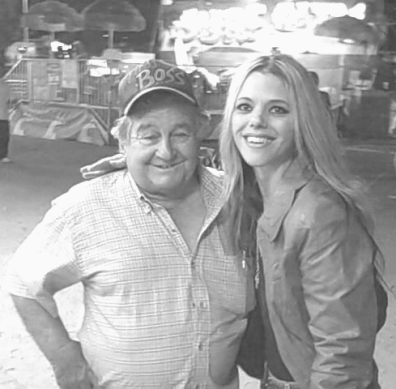 And the above charming, fascinating older fella (and prince) with the greatest rings I'd ever seen became my fast friend after we talked for nearly an hour. His name (for real) is Andy Hardy, and not only had he met Mickey Rooney ("nice man") but he voted for Obama (he didn't think he was a Muslim -- and he hoped he could turn the economy around, it's been hard on Carnies). An 80-year-old carny voted. No matter how you feel about our new president, see why Obama won?
Here's my experience, in under eight minutes. And yes, I missed that last ballon (hey, I'd taken a xanax that night) but I love that stuffed dog playing poker...
See all my Desert Carnival pictures here.