Hunnert Car Pileup, that is, the annual traditional-style Autumn hot rod festival held each year outside Chicago. In its infancy there were just about a hundred cars (thus the name) but this year's 7th edition, held 2 weeks ago, drew almost 1200 cars and 12,000 spectators from as far as Canada, Texas and California. I drove the Coupe of Justice, shown here parked next to chief builder Drew Didio's slammed Hemi A coupe.
Bolus Chief Science Officer Steve Carlson was in town on business, and schlepped his camera out to the fairgrounds where we did a walkthru. I think this was my favorite, a military-themed A sedan that Drew built for Bill from Burlington, IA.  
Another fave, a 5 window Deuce show rod survivor from Canada, Olds Rocket motor, oozing mid 60s badassitude. Note the taillight enclosure in the panel below decklid, a common showrod feature that influenced my car.
Plenty of sparkley whales in the lead sled section, like this Chebby kustom

Speaking of sparkle: my old buddy Johnny Sparkle sparkled up from Sparkleville in his just-completed Sparklemobile.  This hoopty is a regular automotive Island of Misfit Toys, made from pieces that most hot rodders would pass on - T sedan body, Plymouth wheels, parallel leaf Buick frame, Studebaker engine and grille. Johnny figured out a way to make it all work, especially the ingenious upside down underslung suspension. The maraschino cherry: the dashboard inscription "Kill Whitey."
Big ol' pile of crazy shift knobs

Crazy Bill Kriwko commandeers Aaron Grote's 34 Chevy Spacetruck ('59 Buick fins) to sell swag
Row of fatboys powered by Ford Flathead V8s
Every year there is a "WTF?" selection at Hunnert. Okay, maybe that's too harsh; let's call it "exuberantly experimental."

Back to the good stuff. Some nice detail on "Back Seat Betty," The '31 A Coupe built by my friend Kevin Tully featuring a polyhead Dodge Red Ram and 3 gazillion rivets. found from Flickr user "Little Honda 350"
Makin' magic with a Double-ought Mac and a jar of One Shot: Pinstriping pic from Flickr-er JasOne, who also took the flame-shooter pic at the top.  
My buddy and teenage monster car painter extraordinaire Ryan Hartmann pinstripes his girlfriend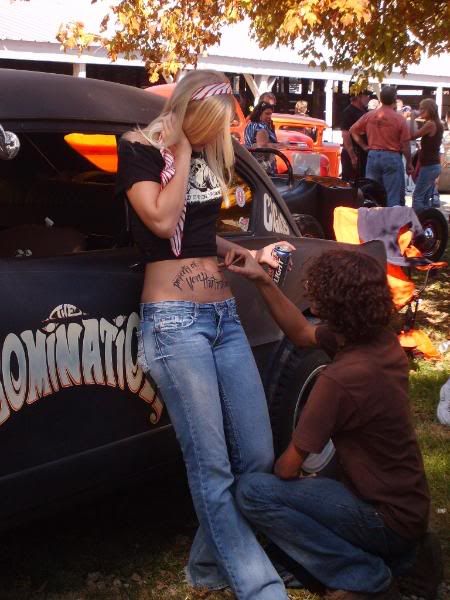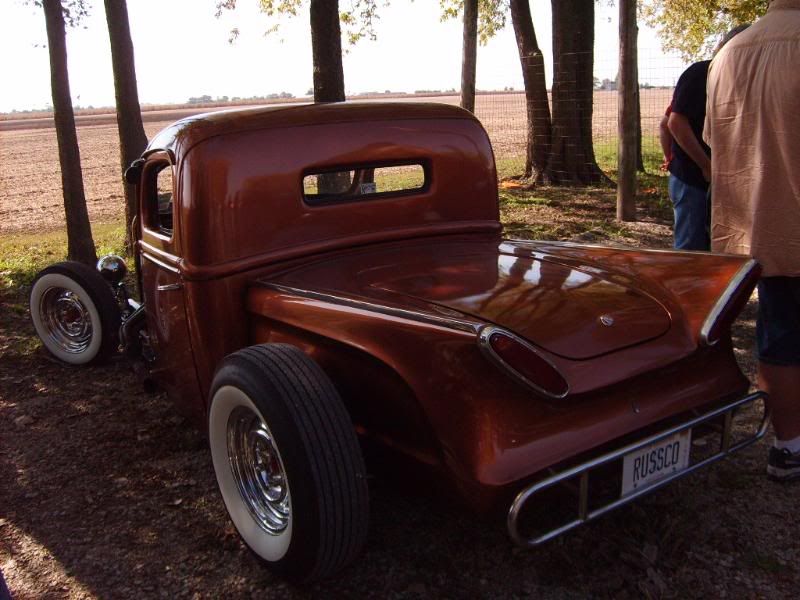 Russ from downstate Corn Country showed up with his Stude coupster, made from a narrowed
I think this anadian car was a mash up of a '57 Olds (?) and a model  A sedan. Not really my bag but got a lot of attention
Another favorite, a Lincoln that was customized straight off the lot new by the Ayala brothers at Valley Customs back in the mid 50s, worked its way to Lake Geneva WI in the early 60s, and has never been restored.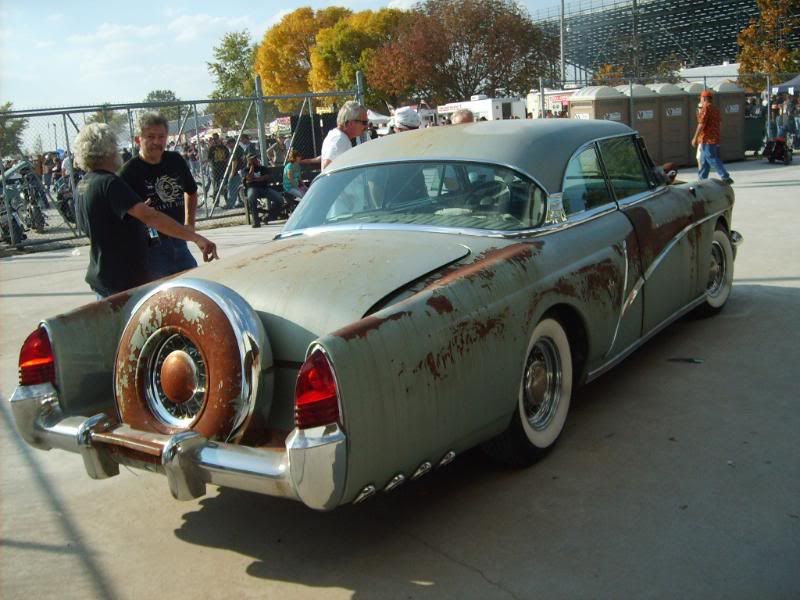 Fire! Fire!
Pileup is sort of a pyro's paradise, and there is a traditional closing ceremony flame off which stretches into the wee hours.