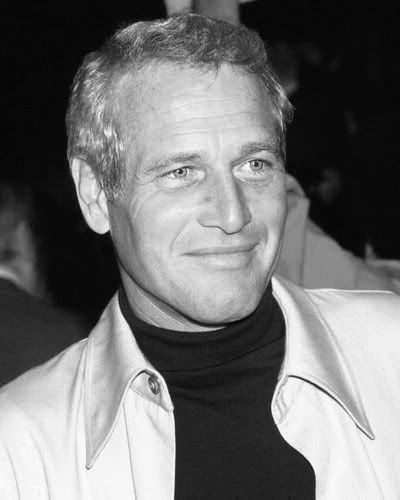 Yes, they get old. They go. But I'm a bit overwhelmed by the passing of Paul Newman -- the career, the philanthropy, the race-car driving, the gorgeous, iconic man himself -- so I'm not sure where to start. So many Newman roles are not only brilliant, but mean a lot to me personally including, Hud (where he's the most charming son of a bitch you'd ever want to meet, or if you're smart, not want to meet), the fun, sad and inspiring Christ parable Cool Hand Luke, the uber-cool yet moody and complicated The Hustler, The Verdict (which has one of the greatest openings in screen history -- Newman playing that pinball machine) and some of his less talked about pictures, like Pocket Money (with Lee Marvin) or the underrated Sometimes a Great Notion (which he skillfully and beautifully directed). I'll be writing more about these pictures, but for now, I'm returning to a Newman performance that fills me with such happiness, that it occasionally surprises me with its gritty, twinkling power. It's a sports picture after all, and though beloved by legions of fans, feels under-appreciated -- George Roy Hill's hockey classic Slap Shot. Slap Shot is not only the greatest sports film ever made (period) but one of Newman's greatest roles within his long, outstanding career.


I'm not being hyperbolic; it's just that perfect. A pure sports film, Slap Shot encompasses all aspects of the game: It's about the team, it's about the coaches, it's about the towns, it's about the politics and, with almost transcendent gusto, it's about the dirt. Hilariously vicious dirt that boasts some of cinema's most toxic lines -- lines I can't repeat here (or rather I can't do justice to, it's better if you watch the clip at the end of this entry). And it boasts the greatest use of that Maxine Nightingale song -- a tune that shouldn't be allowed in any other motion picture ever again. I can only picture cold busses, booze, rust brown flairs, Newman's fur trimmed leather jackets and Strother Martin while hearing this song -- and that's how it should be.


And again, there's star Paul Newman who, in his older, ruggedly handsome visage, carries the picture with an odd sort of foul-mouthed dignity we simply don't see in movies these days (and so naturally -- if an actor is doing blue, it's always so damn obvious). Playing a middle-aged minor league hockey player/coach, he's a tough, quick-witted guy, but in quieter moments, touchingly doubtful about his future. He's attempting to save his washed-up team, and that requires, not surprisingly for hockey, a need to amp up the brutality.


Enter the picture's greatest addition, the Hanson brothers, a trio of Ramones-resembling prodigies who absolutely annihilate on the ice, but end their days playing with toys in their hotel room (they also, quite memorably, speak in bizarre twin talk that no one can understand). No matter if fellow player Michael Ontkean (whose bitter wife, played by Lindsay Crouse, is so sick of the hockey life, she's become a drunk) isn't taking to the newer method, the boys get the job done and make the crowds happy.

But their triumphs aren't simply played for audience gratification, since there's a lot more to Slap Shot than carving, backstabbing and high, hard ones — there's complicated adult drama (particularly regarding Newman and his ex-wife, Jennifer Warren) and an extra amount of thought mixed with the humor regarding violence, and just where the hell some of these men's lives are going. And every single character is quirky, lovable and authentic, with Paul Newman's performance ranking as one of the most fascinating in his career (and those leather outfits! Sweet Jesus, Newman could pull off the slinky brown ensemble).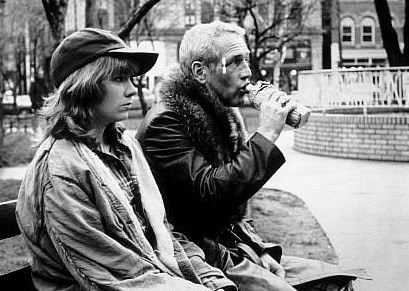 Also interesting is that, while it's hands-down the most profane sports movie ever made, all of this tough talk was scripted by Nancy Dowd, a woman -- and it received much heat for her salty language and creative uses of the "f" bomb. And it pulls no punches in the mean department. Especially when a frustrated Newman informs a woman that her elementary school son "looks like a [expletive] to me... You better get married again soon 'cause he's gonna wind up with somebody's [expletive] in his mouth before you can say 'Jack Robinson'."
Can you imagine the hero of a movie saying this today? And without every member of the PC police on the actor or picture's case? Or worse, shallow "shock" loving viewers watching the film simply because he utters such nasty dialouge? He's pissed. He just says it. It's not a stupid Dane Cook routine, it's hockey. It is Paul Newman. Oh how I already miss the man.
(Please excuse the poor quality of the clip below -- it was the only one I could find...)