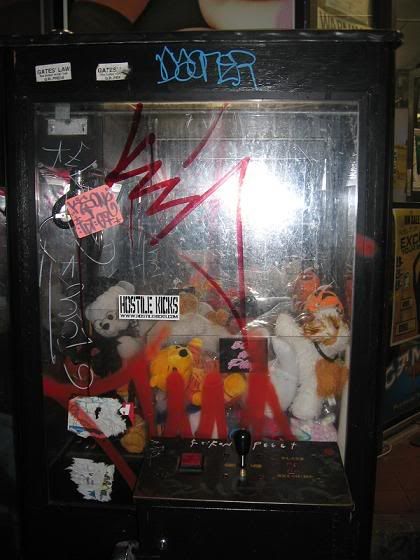 I'm no gambler but if I see a stuffed animal claw machine, anywhere, I'm game. Actually, obsessed is more like it because the moment I spy steel claw and fluff, I'm easily dumping five dollars into the contraption just to win the ugliest most rejected mystery animal I've ever seen. I don't care. I must have the blue and neon pink lamb/rabbit/dog thingie and I must have it now.
So I was more than thrilled to find one randomly, in the East Village while running around New York City in the middle of the night. Like an abandoned old carnival ride it appeared there sadly, riddled with graffiti and to my mind, surely broken. But it worked! And I won a purple...cat? Doesn't matter, I grabbed the little sucker, dragged it to its slot, and wondered yet again, why the hell would I want this ugly thing?
I've heard they're rigged, but somehow I always manage to win, usually more than once, before exceeding the five dollar mark. This is what I'm good at. I wish there was a movie about this special brand of excitement and drama. Like Tilt with Brooke Shields.
Postscript: My NY friend informed me that the machine was taken down! Sadness. Nevertheless, I've got plenty to play in Los Angeles and even more in the desert, which is great on those sleepless nights. Nothing like playing the claw machine at 3 AM with speed freaks cheering you on.